Now cutting and tucking may not be your favorite part of weaving a basket, but you really should put 'Camp Tuck' on your weaving event bucket list.  Land of Lincoln Basketweavers Association (LLBWA) hosts 'Camp Tuck' each September in Bloomington/Normal, Illinois.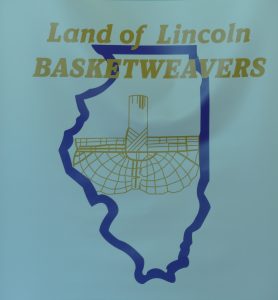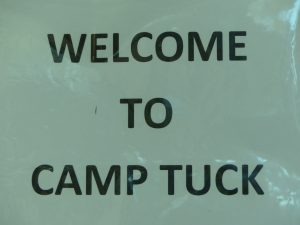 This year LLBWA hosted 5 teachers at Camp Tuck:
 Nancy Matthews and Char Ciammaichella (Hiding from the camera! I'll get you next time Char!),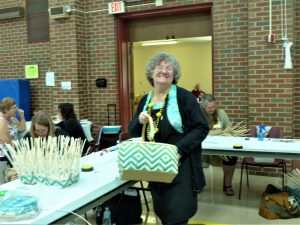 Laura Lee Zanger, Julie Kleinrath and me.
I taught five basket classes:
So many color choices – so many beautiful little baskets!
I also taught a couple of new baskets.  Beach Bum is a quick little basket for any level weaver, and everyone's basket turned out lovely!  You can find the pattern here – and its only $3!
On Saturday I taught T-Tray
From my pictures you would think that everyone was weaving the T Tray in blue … not true.  There were several colors to choose from, seems I only got good pictures of the blue baskets! This really is a lovely basket and worth all the time they put into it – one of my past students won 'Best of Show' with it!  Congratulations Pamela!
Sunday's class was another new basket.  Spirals is another all level basket and made for a relaxing way to end the weekend.  This pattern is also $3 and can be found here.
Camp Tuck is a wonderful event.  A tasty lunch is served daily, every one is very helpful and friendly and the location is perfect – roomy and close to hotels and restaurants. I always enjoy attending.  Thanks for having me!
And if you are interested in learning more about LLBWA and Camp Tuck (as well as their other events: Spring Fling and Starved Rock) check out their website -www.llbwa.com.    You'll be glad you did!
Thanks for reading the Basket Teacher!