So Monday was Memorial Day and tomorrow is June 1st — It's time to actually finish that post about my May classes!!!
May started with some Minnesota gals coming down to take a class in my studio.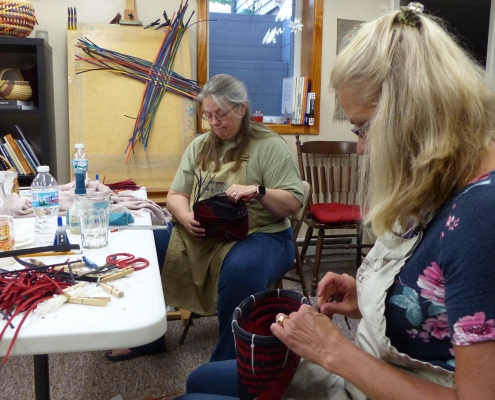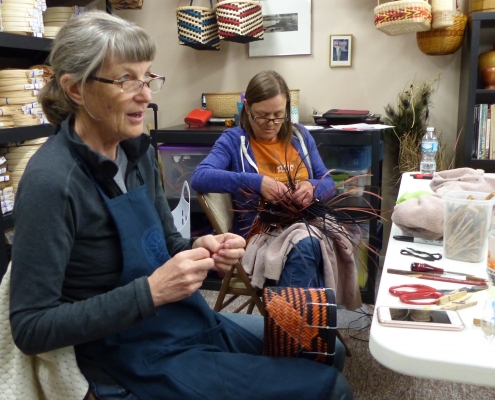 They wanted to weave Zoe over two days…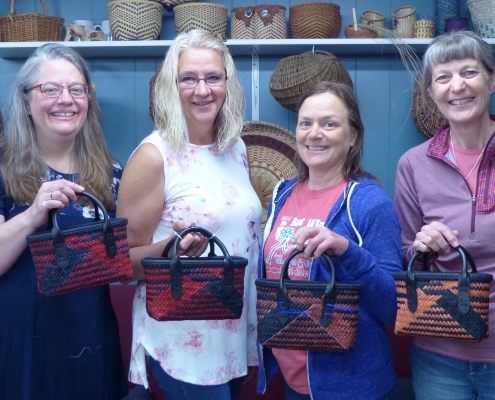 and look at that, they did it! Each of them went home with a beautiful basket. We had a wonderful time weaving and visiting and even took time to enjoy the early spring woodland flowers.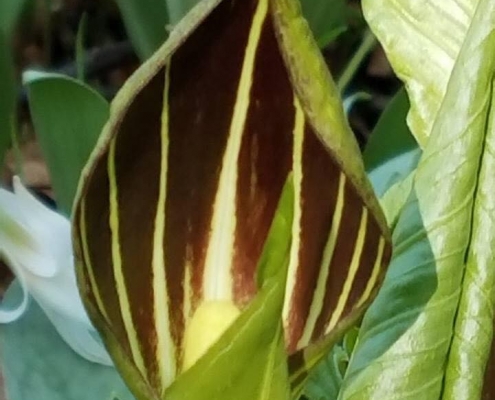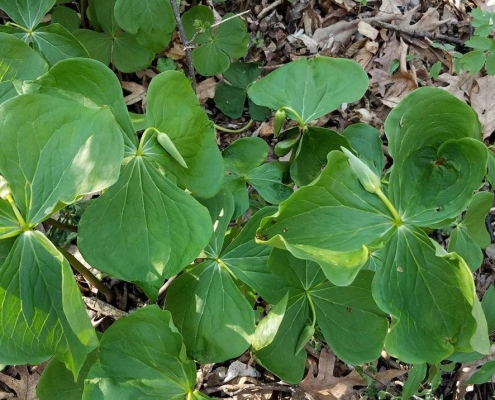 And yes, I would love to have you and your group (four – six people) schedule a class in my studio!
And then I was off to the Stowe Basketry Festival, a seven day event in scenic Stowe, Vermont. This year, daytime classes took place at the famous Von Trapp Lodge (Thinking Sound of Music? yes, those Von Trapps!). Evening activities took place at the Round Hearth. If you have not attended this event, you may want to put it on your bucket list.
I taught five classes –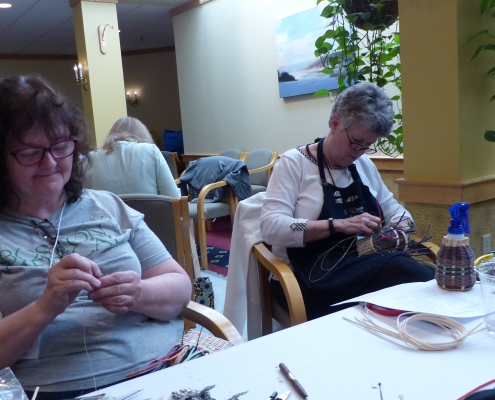 Wednesday we wove Jelly Bean Picnic.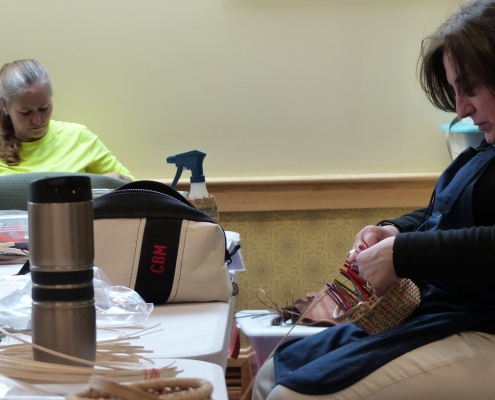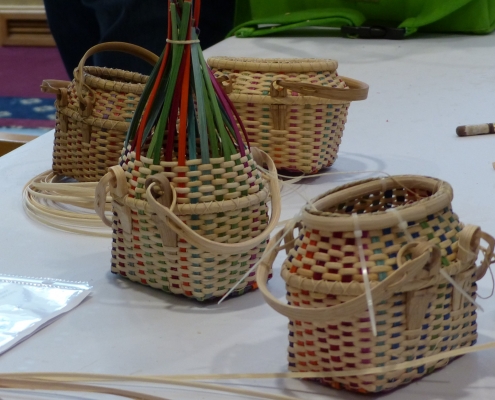 This sweet little basket really did take all day – but so worth it!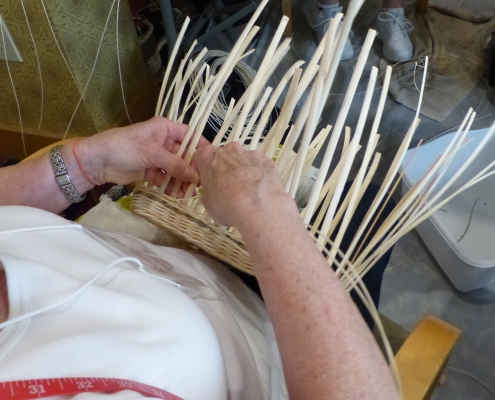 On Thursday, we wove Wrapped Up.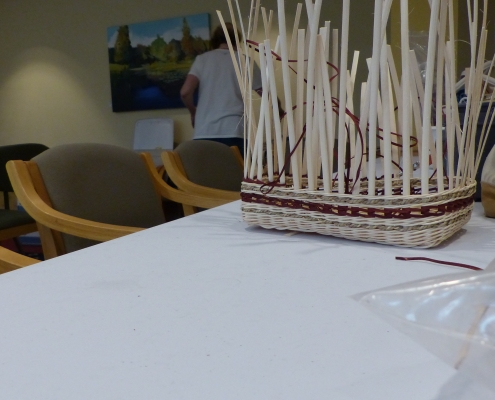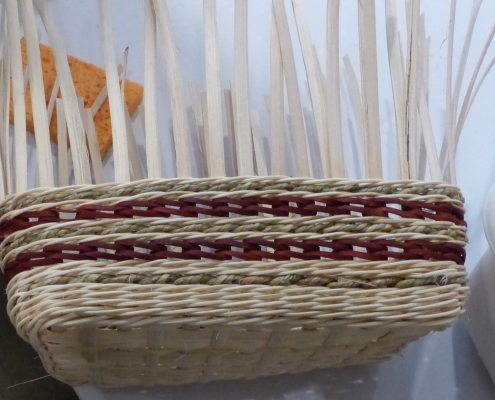 A beautiful little market basket full of fun techniques.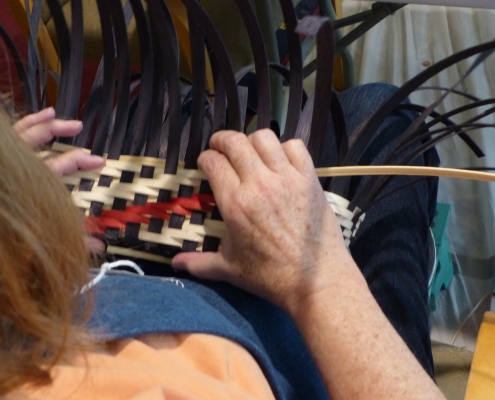 On Friday we wove Strata with accents of turquoise or red. Each one was beautiful!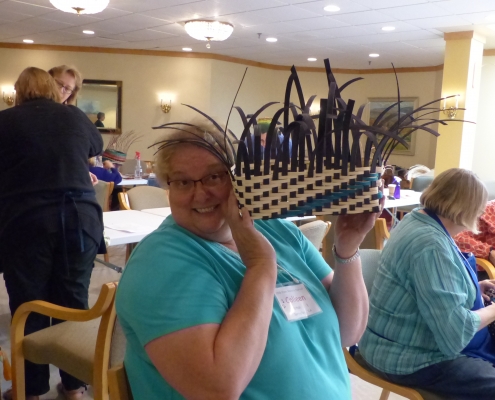 Strata is a striking tote basket, perfect for everyday.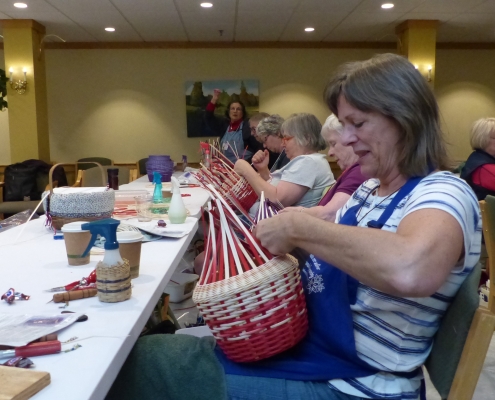 On Saturday, we wove Faded Dreams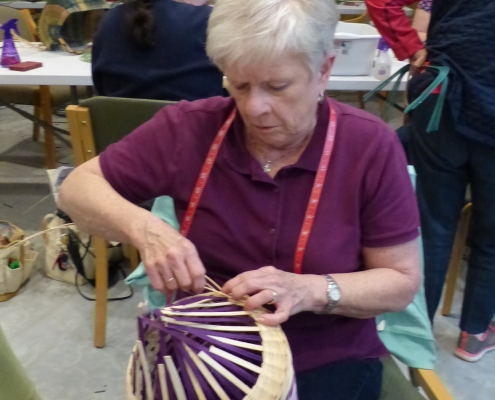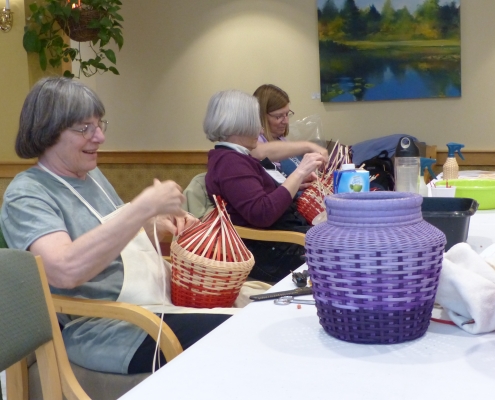 After weaving Faded Dreams, students take their baskets home where they apply an over dye (all materials included in the kit). All the baskets were beautiful and most of my students were patient enough to wait til they got home to apply the over dye. However … I wish you all could have seen my face when Linda showed up after dinner with her two gallon bag of dye – she had a few questions!!! I tell ya', we really need to keep a close eye on these people! [FYI Her basket turned out beautiful and she didn't spill a drop of dye while in the dining room.]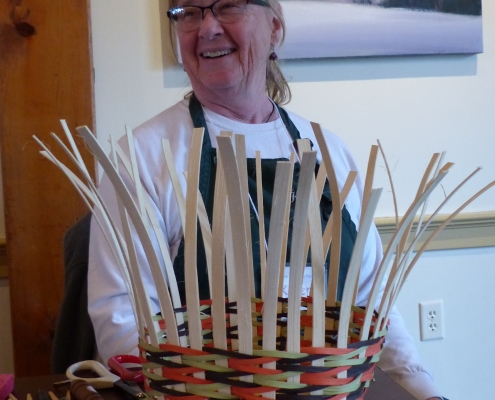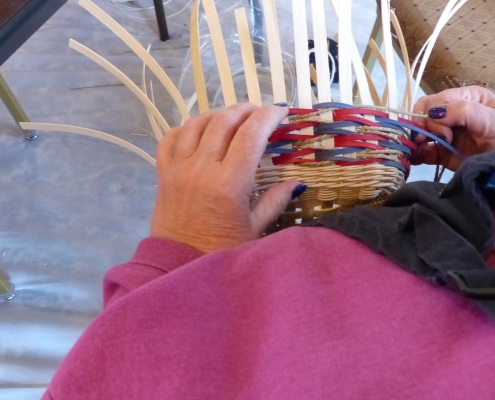 On Sunday, the last day of the event, we wove the Braided Muffin Basket. The three strand braid in the basket is the best part. So many options. Change the colors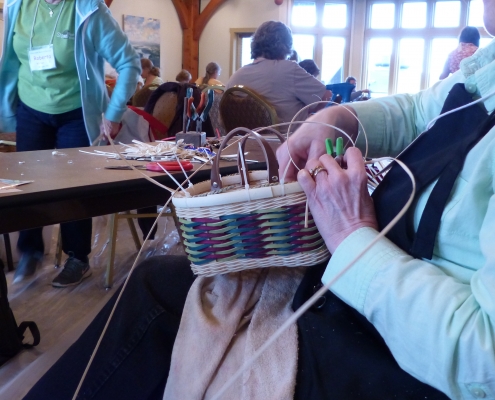 or change the number of stakes, and the basket has a completely different look.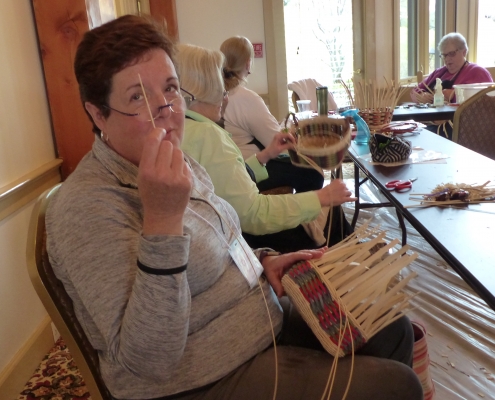 And let me brag for Colleen,  The Braided Muffin Basket was her second basket … and oh my, did she learn a lot! But she did exactly as instructed and her basket turned out perfect. Congratulations Colleen!,
All of these classes took place at the Von Trapp Lodge but…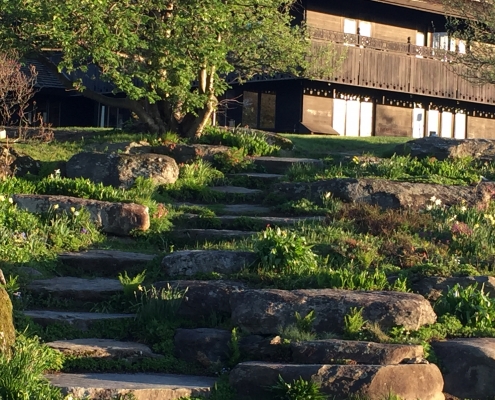 we don't just weave at this festival, all kinds of workshops and activities are offered at the Round Hearth in the evenings. You will find people exchanging quilt blocks and hostas, as well as beading and doing origami. And, since Friday was the evening before the Royal wedding,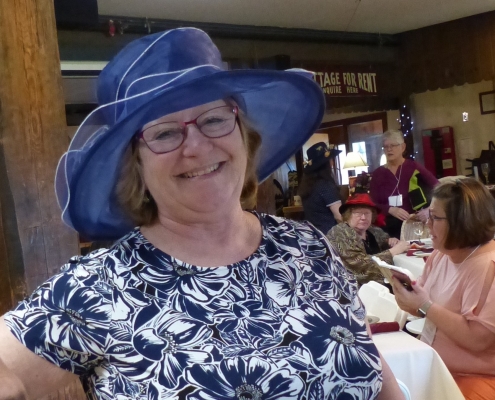 Merry, our Stowe Basketry Festival organizer, planned a 'Royal' banquet,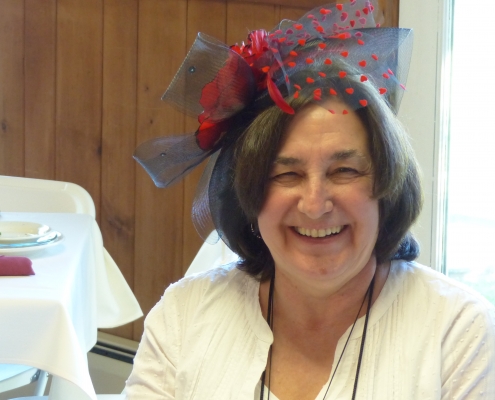 complete with fascinators.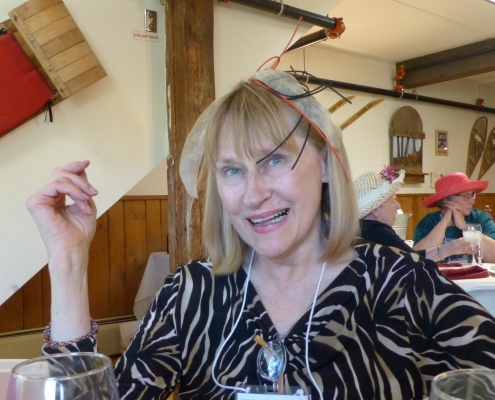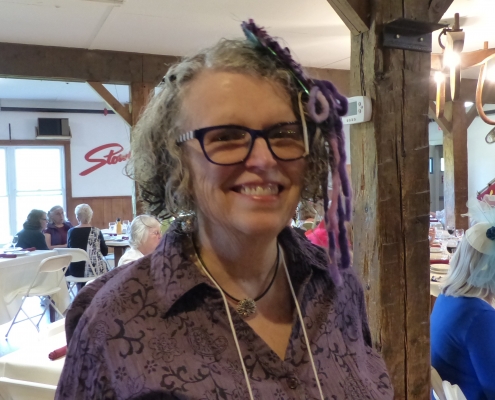 A few of the guests wove their facinators!
You might recognize some of these renowned guests!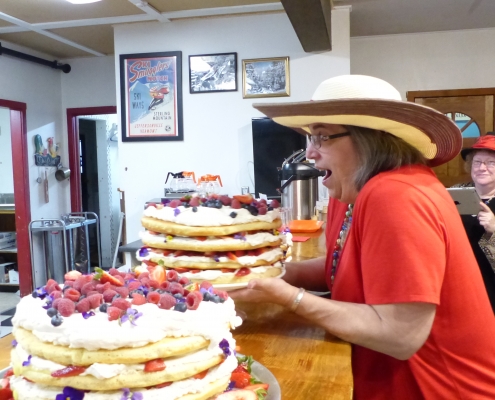 And now you know where desert went — we really should watch Lori a little closer too!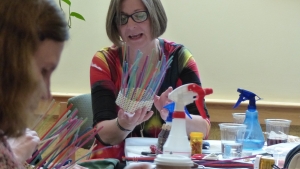 Ah yes … I love these basket people as much as I love weaving.
And there you have it a month of basket classes, I hope you enjoyed my photo journal.
Thank you for reading the basket teacher.