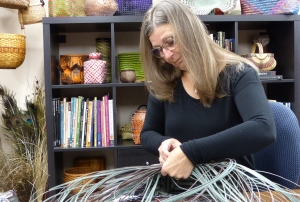 Annetta Kraayeveld
                      -artist, teacher, basketweaver
Annetta's home and studio are full of baskets: the collecting started when she was a child; the weaving, in the early 1990s when she found a book and begged a lesson.  She is still obsessed with baskets and finds great satisfaction working with her hands, merging an age old art form with the contemporary world. Creating functional art pieces is her passion.
When not weaving, Annetta is teaching, which she enjoys as much as weaving.  She has been teaching at basketry events and guilds across North America since 2000. Annetta has earned several awards, including Best of Nantucket and Viewer's Choice at the 2013 AMB convention and Best of Mold Woven at the 2015 NCBA convention. You can view her gallery of studio work here.
In 2015, Annetta started a blog called the Basket Teacher; you can find it here. The Basket Teacher features articles about weaving techniques, tutorials, basket weaving events, book reviews, interviews and anything basket related that she stumbles upon.
Annetta has published stacks of patterns for reed, paper and black ash baskets.  Her patterns are available in the store on this website.  Kits for her baskets can be found where ever she is teaching and, on occasion, on this website.  If you are looking for a kit and don't see it here, feel free to contact Annetta  to see if she has a few in stock.
Besides baskets and writing about baskets, she loves the people she has met and the places she has visited through basketry. She would love to get to know you and your basket weaving friends. If you would like Annetta to teach at your basketry event, contact her here.