Seven weeks ago, we decided that we needed to re-shingle the roof.  No leaks, but it was just time.  That decision started a discussion on the chimneys – which lead to the decision to remove the fireplace …which lead to deciding to remove the oak paneling … which lead to deciding to remove a brick wall in the living room … which lead to needing new flooring in our main living areas … which (obviously) got me thinking about new flooring in the studio and dye room and reminded me that EVERY wall needed a fresh coat of paint!
Six weeks ago the first wall came down and today I am happy to say that we are done. Our living areas are finished and beautiful. My studio is finished and beautiful. Life is back to normal.  The funny thing is – we are still waiting for the roofer! 😛
Any who – I thought I would share the journey of updating my basket weaving studio.  Here goes.
I was going to try to take 'before' pictures … but I was deep into boxes when it crossed my mind.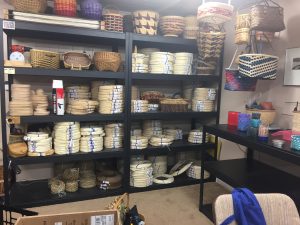 You can see I still had a lot of basket weaving supplies to pack up.  I used every crate and box in the house!
It took a very long day and over 17,000 steps to get it to this point.
I have a lot of STUFF!  That's a lot of IKEA bags! And look I had a few left (not for long though).
Next we moved the furniture and shelving units.  No pictures, but trust me, every corner was full; it was kind of like a Tetris game.
Old flooring out. Check
Fresh paint on walls. Check
Okay, flooring guys can come tomorrow morning!!!
Look at that beautiful floor in the dye room.  So crisp so clean – Any body want to guess how long it will be that color?
And the studio – no more stained carpet.  So beautiful.  I am so excited to put my studio back together.
However, first things first. I have one week to get our living areas ready for the flooring guys. Paint, paint, paint!
A week later and I am back in the studio.
It always takes longer to set up and somehow it's just as messy. This was after day one (and about 12,000 steps) of attempting to put my work space back together.
Late on the fourth day … DONE! And organized!! I love it!  Can't wait to come down to weave a basket in the morning!
This will be my view when I walk into the studio tomorrow!
But this is where I am headed now – upstairs to put my living areas back in order.
I'm loving this new look upstairs and downstairs … but wow! I am exhausted!
Thanks for reading the Basket Teacher