-the 2017 North Carolina Basketmakers Association Convention. Thanks to Katie Lake and all of her volunteers, we all had four wonderful days full of baskets, weaving and visiting.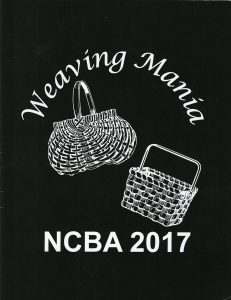 I was sad that the weather was NOT spring like, but it was wonderful to see old friends, meet a few new ones and see all the beautiful baskets being used, made and raffled as well as the amazing things in the exhibit room.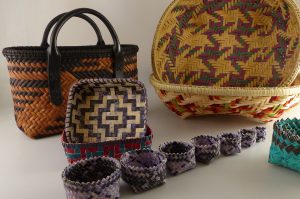 I taught four classes: Recursion, Zoe, Pinwheels and Painted Paper Trays.
(Click on the name of the basket to find the pattern.)
My first class of the event was Recursion – this is a set of nesting paper baskets.
Students make a set of seven baskets with 1/8″ strips of paper or
a set of five baskets made with 1/4″ strips of paper.
I had a tote full of different hand-painted paper for students to choose from – it's always fun to see what people will choose and it's even more fun to watch the baskets grow.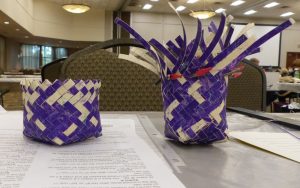 In class students finish one and sometimes two baskets.  Cheryl got two baskets done in class.
When I got home, I had an email from her with pictures of her finished set!
Beautiful work Cheryl! and thank you so much for sharing the finished set.
Day two, St. Patrick's Day, we wore green and wove Zoe, a diagonal plaited twill basket.
After making a beautiful twill base, the corners are set and all the stakes become weavers. The class can be intense,
but it is so worth it! The basket is lovely and students learn so much.
Saturday we wove Pinwheels in fall or spring colors
So pretty and So.Much.Fun
My last class was Painted Paper Trays, another paper basket.  I had a variety of color choices- students picked two kits – one to make in class and one to make at home. The baskets were striking – from bright and bold
to warm and subtle.  Each one perfect.

Look, someone got a picture of me working 🙂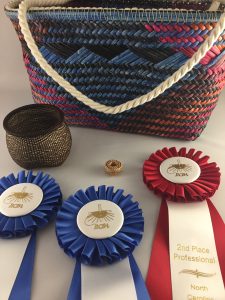 And I was honored to win two firsts and a second in the exhibit room – with all of the amazing pieces that were in that room, I feel very honored to have received these awards.
If you weren't there – make plans to join us next year.  It won't be long and all the information will be on the NCBA website –www.ncbasketmakers.com
And that's it for today – thanks for reading the Basket Teacher!