Yesterday, I was working on a set of baskets for my daughter. I love the base on these baskets and it got me to thinking about basket bases.  So you know me, I got my camera and wondered around the studio taking pictures. I love the variety in basketry…
This is the set I made for Melody.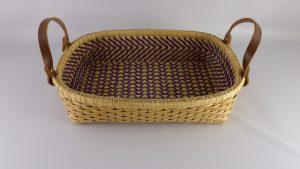 It's a variation of one of my brand new baskets, T Tray. I will be teaching this basket at Weavin' in Winona and Camp Tuck this year! Pattern is in process and will be available soon – I promise!!
And look at all these fun bases …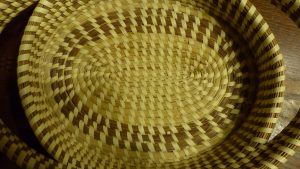 I don't make coiled baskets – but of course I collect them 🙂  One of my favorite sweetgrass baskets
and a little pine needle basket.

Here's the twined base of one of my new baskets, Yesterday (another  pattern in process).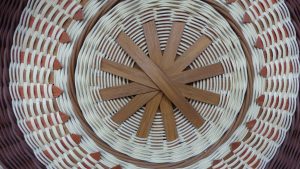 Anne Bowers' Mayan Sun, another round twined base (Anne doesn't have a website – but you can find her patterns at Country Seat).
Even the basic square base is beautiful.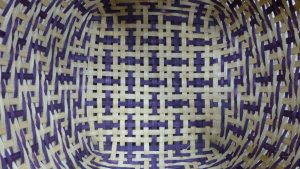 Voltage – basic square base with color!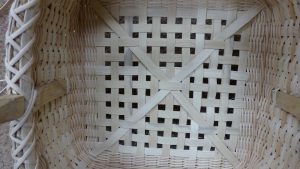 Here's a fun variation of the basic base in one of my baskets, Surreptitious.
Another variation – basic base with legs! (River Walk – I'll be teaching this at the Association of Michigan Basketmakers Convention).
Bases with fillers, Ichnolite and Grandma & Me Totes (see my tutorial of filled bases here).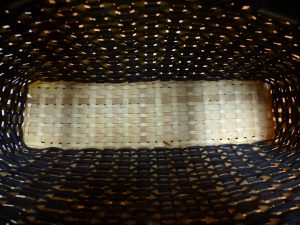 Leather and Lace Tote, a continuous filled base (see my tutorial for this base here).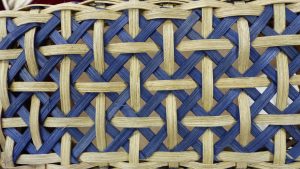 This is the base of a cracker basket I designed, a double base,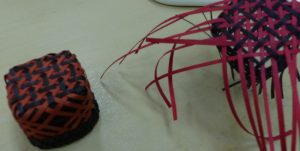 which I applied to a miniature basket, Crossfire.  1″ x 1″ x 1″.  So much fun!! and the pattern is full of step by step photos.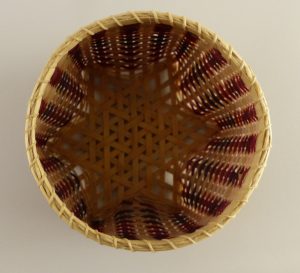 Yes, this one of my miniatures. No, I haven't written a pattern or taught it.  I'm trying to maintain some of my sanity – ask me in a year. 😉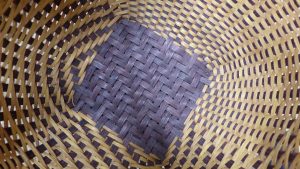 This is one of my favorite bases – the herringbone twill (2/2 twill). I use it often. This is the base of Montana.
This is herringbone twill in two colors – the base of Three Squared.
And this is my favorite base – the split herringbone or the quatrefoil base. It is the base for a traditional quatrefoil basket. In my pattern, Simply Quatrefoil, I have worked to explain the concepts behind this shaker design with graphs, charts and notes.  You can find my 13 page pattern here.
Believe it or not, this is the split herringbone base in two colors – my Painted Paper Trays.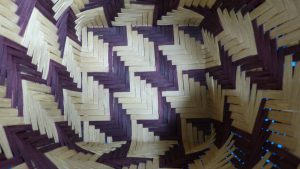 More twill bases: Arrows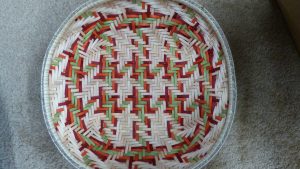 and Pinwheels.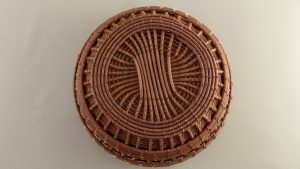 Isn't this a beautiful base!  It is the base of Sally Anaya's Cocoa and Copper.  You can see Sally's work here.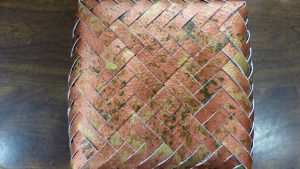 I do love twill – and diagonal twill weave is getting to be an obsession.  This is the base of a traditional Cherokee doubleweave diagonal twill basket I wove in paper.
And this is the base of another diagonal twill paper basket -my nesting baskets called Recursion.
And then there is Zoe, it has an amazing base. I have been enjoying teaching this basket – my students learn so much and their baskets are beautiful.
I'm not the only one thinking about bases – the theme for the 2017 Association of Michigan Basketmakers Convention is "It's all about that Base". Sounds fun!! I'm pretty sure the convention info will be out soon – so keep an eye on their website: www.michiganbasketmakers.com.
And now it's back to class prep and pattern writing. Its a rainy day, so I'm happy to be inside – I have lots to do! Next week I will be teaching at the Stateline Friends Weaving Retreat in Richmond, Indiana. If you will be there, stop by and say hi.
And since I have a few more kits to make – I'm signing off until after SFWR. Watch for my next post right after the retreat.
Thanks for reading the Basket Teacher