It is pretty amazing how much I can accomplish when I lock myself in the studio for two weeks.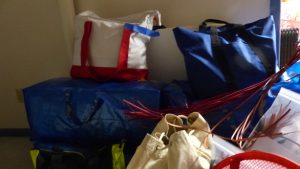 Kits packed and ready for the North Carolina Convention
Actually, basket kits are taking over my house. This guest room was recently conscripted to serve as storage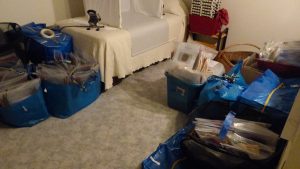 and so was this guest room – although there is space to walk in this room.
Yes, basket kits are taking over my house – the good news is I have all my kits for April and May classes put together. (yeah!)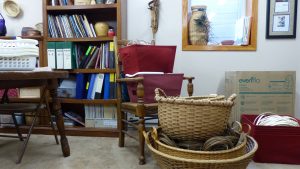 And I have a good start on kits for my June basket classes.
I even cleaned the studio.  It feels good to know when I get home from North Carolina I can mess it up again! ;-P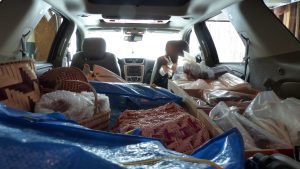 This afternoon I packed my vehicle – ready to head to North Carolina tomorrow morning!  And for those of you who have asked – yes, I have extra Zoe kits!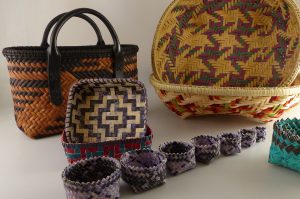 I'm looking forward to seeing many of you and teaching these baskets (Recursion, Zoe, Pinwheels and Painted Paper Trays) at the NCBA 2017 convention, 'Weaving Mania'.
And yes – that's snow.   It was a little disappointing to wake up to four inches.  Its been snowing most of today – here's hoping it stops snowing before I leave in the morning.  I am also hoping the weather changes from winter to spring while I drive south, I could use a little green and some spring blossoms.
And I am off ….
thanks for reading the Basket Teacher