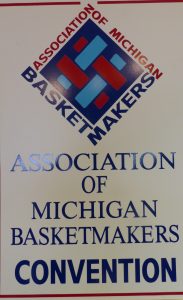 I just got home from the Association of Michigan Basketmakers Annual Conference in Lansing, Michigan.  This year's event, A Weaver's Wonderland, was inspired by Alice in Wonderland – complete with a mad tea party!  I taught five classes, had great students and found time to enjoy the exhibit hall, luncheons, vendors and friends.
Last week I posted a photo of my basket, Beachcomber, which was raffled off at the convention. I have had several positive comments on that piece, but I wish you could have seen all the beautiful pieces they raffled off. Five other attending teachers had pieces in the raffle, however the real stars of the raffle were two pieces from Fred Ely's collection:
One of Theresa Ohno's beautiful baskets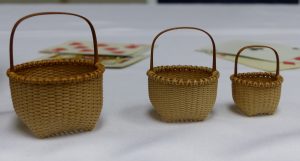 and three amazing miniature Shaker baskets by Joel Davis.
No I didn't win a raffle basket, but there were a some very happy people who did!! I did win in the exhibit room, but that's another story for another time.  Congratulations to Dianne Gliexner who took Viewer's Choice – nice work!
And now a quick tour through my week's basket classes:
I taught two miniature baskets – this one is Crossfire.  I don't get to teach it often, its kind of intimidating, but I had six students who were up for the challenge.
Baskets this small can cause a little stress.  I tried to get a picture of Andrea's pile of chocolate wrappers,
but she cleaned them up when I got the camera out!
And I just added some Crossfire kits to my store, find them here.
And then we made Ombre' Knots.   Its a sweet little pouch made of 65 square knots.
(Don't you love Marty's hat!)
Ombre' Knots is one of my brand new baskets and the class was a lot of fun!
Everyone made at least one pouch, some finished two!
Beth went up to her hotel room and dyed and embellished it – she wore it the rest of the week!
Want to learn how to make one? – I just added the 7 page pattern to The Store – you can find it here.
We also wove Wrapped Up, a sweet little market basket full of fun techniques.
Both the  pattern and the kit for Wrapped Up are available in The Store.
And then we wove Whispers, with lots of triple twining and a few rows of three strand braid.
Another great class!  And don't you love how Karen was color coordinated with her basket?
We ended the week with a paper basket class, Painted Paper Trays.
Four hours and everyone made two baskets –
Well, they might have had a little work to do after class 😉
It really was a great event, consider joining the fun next year. The 2017 convention will be at a new venue – a resort on a lake! You can learn more on the AMB website: http://www.michiganbasketmakers.com/.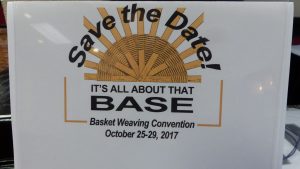 Maybe, I'll see you there!
thanks for reading the basket teacher.