The Heritage Weavers Fall Event takes place in Dayton, Ohio. This annual event started years ago as Mid Summer Weave; over the years, things changed and it moved to September and became a fall event. This year, the event moved to a brand new location, the Bergamo Center, and to the last weekend of August – just on the edge of the change of seasons.
The Bergamo Center provided great weaving rooms, as well as lodging and meals. The building is a large square with a tranquil central courtyard and the grounds are beautiful. I think the Heritage Weaver's have found their retreat home!!
It was a great retreat – here's a little photo journal of the weekend: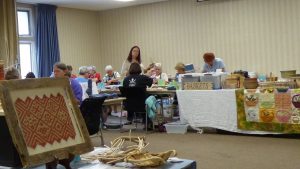 Gina Kieft's beautiful framed woven ash picture 'Quilted Memories'. Gail Hutchinson teaching a class and, if you look really close, you can see Barb McNally teaching, too.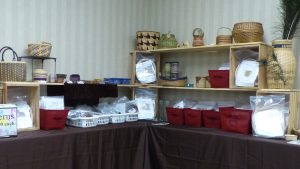 My vending spot.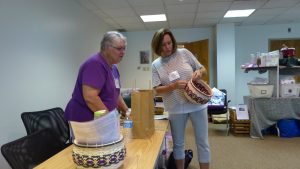 Sharon Klusmann's class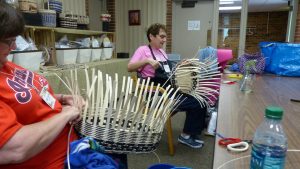 Char Ciammaichella's class going full speed ahead.
Kathy Tessler teaching her beautiful double walled ash baskets.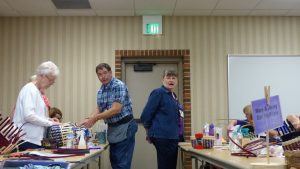 And Jimmie Earl and Mary McKinzie – gotcha!
And I taught some classes –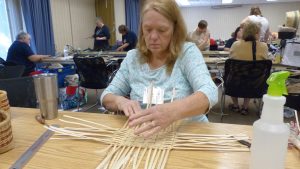 Always enjoy having you in class Kim.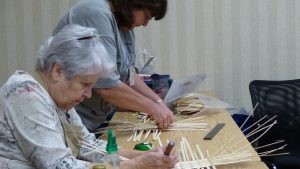 This is Wrapped Up -a great little market style basket.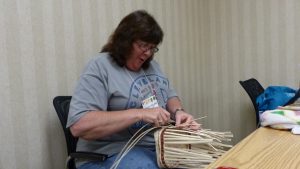 Lots of step ups and a great wrapping technique.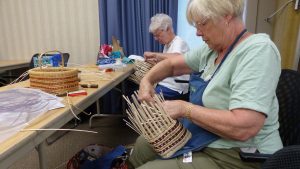 These two look serious here. They did work hard – but trust me, they laughed a lot!
I taught two evening classes. Both were paper baskets, Papyrus and Painted Paper Trays. Its always fun to see what color paper people will choose.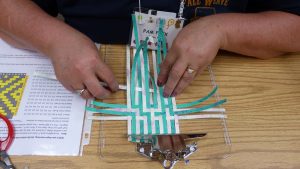 See that name tag? Yes, Pam Feix taking a class with me. So.Much.Fun!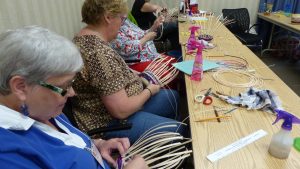 And then we wove Whispers.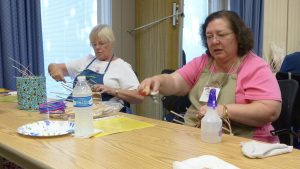 They worked hard.
The color was fun.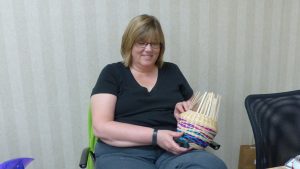 But it was all about the shaping.
The baskets were all different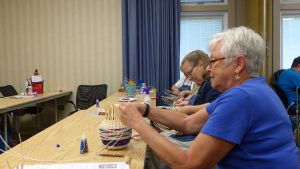 and all beautiful
Beth wasn't sure that my technique would work –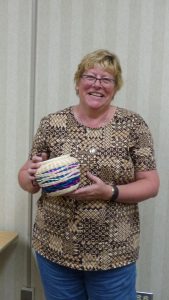 but look at that!
You will want to bookmark the Heritage Weaver's website, www.heritageweaversguild.com, and make plans to join the fun in 2017! Its a great event – don't miss it!
thanks for reading the Basket Teacher!