Clean!
Yes, that is just a picture of the floor.  The floor in my studio.  Please note that it is clean.  It is reed free. I even dusted!  I actually just stood here and took it all in – it looks kind of impressive. This week our children come home and this will become living space – this week it won't be reed strewn, but it may be covered in craft supplies and toys and little bodies. It will be a special kind of messy 🙂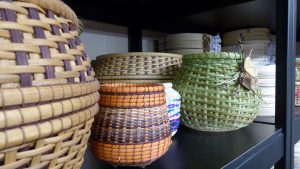 Along with cleaning my studio, I did some much needed culling of personal stuff.  I went through our storage room – its amazing what you will keep if you have a shelf!  Pretty much I burned a lot of paper (boxes and boxes of it!!), brought two loads to Goodwill and have several boxes for my children to decide on.  Why am I telling you this … because this means I now have a place to put my inventory of basket kits – and actually know and see what I have. This will beat the way I was doing it, free up a guest room AND hopefully allow me to regularly post my surplus of basket kits. That's the plan and it works in my head – we'll see how organized this all stays in reality…the reality of me traveling to teach basket classes in eleven states between now and Thanksgiving. 
June classes
Before I cleaned, I prepared my classes for June.  I am so excited to be attending the Basketry Festival in Stowe, Vermont.  I will be teaching four classes and then taking time to take a class with Vladimir Yarish!  From there I go to the  Bluegrass Area Basketmakers Seminar in Jabez, Kentucky where I will be teaching four more classes. Another great event in a great location! I am also making a stop in Ohio to teach at the Wildwood Guild. It will be a full month!
Coming up on my blog
I have a couple of interviews in process, I am working on a few basket weaving tutorials and I have a few weaving tips ready to go. And I still have a stack of UFO blog posts that I know I will get back to.  However the woods are green, my children and grandchildren will be here for a week and I am having a hard time staying at my computer … May is my favorite month in Wisconsin. So I'm outta here – adventures with children and in the woods.
Maybe I will finish some UFOs next week. Maybe. Maybe if it rains.