When I started weaving someone told me about using tea to stain baskets. It is still one of my favorite ways to finish basket, I love the rich color and I like the smell of the tea brewing. I especially like that this is a non-toxic way to finish a basket.
There are a couple of different methods, here's how I do it.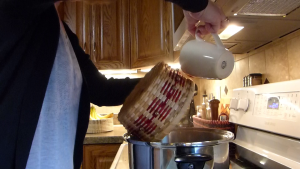 What do you need?
Cheap tea (I usually buy a box of 100 tea bags at the dollar store)
Water
Ammonia (be sure it is NOT sudsy ammonia)
A big pot – (Dutch oven or stock pot)
A stove or hotplate
A new garbage bag.
A slotted spoon or something to remove the tea bags with
A ladle or mug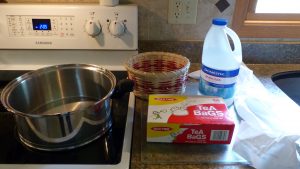 Where should you do this?
Ahhh – a non-toxic finish for baskets! You can do this in the kitchen!
How to Tea Stain a basket
Put about a gallon of water in your pot. Bring it to a boil. Add about 50 tea bags. Let it boil for five minutes.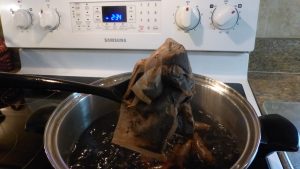 Use the slotted spoon to scoop out the tea bags.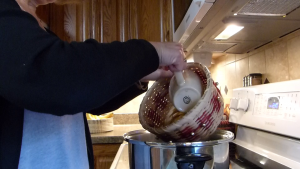 Use the ladle or mug to pour the hot tea over your basket. You may also dip the basket, but do not soak the basket.  Just make sure every part of the basket gets touched with the tea. It will not look very dark – it will mostly look wet.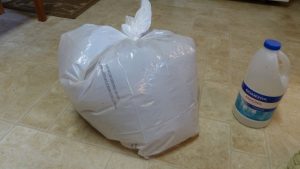 When the basket has been completely covered with tea, put it in the garbage bag with about a ¼ cup of ammonia. Tie the bag closed. Shake.
The basket will remain in the bag for 1 – 1 ½ hours. Every fifteen minutes shake the bag.
Remove the basket and let it dry completely. I usually do this part outside. It will be food safe when dry.
A wood handle may need a bit of sanding with some steel wool.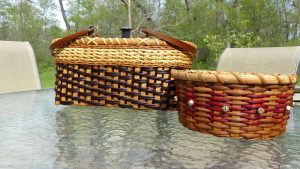 Why does this work?
The color you see is the tannin in the tea. The ammonia is acting as a fixative or mordant.
For those of you interested – ammonia is not a true mordant, but it 'acts' as a mordant with tea because it adjusts the PH.
And there's more than one way to Tea Stain a basket
My friend Regina, keeps a covered container of tea with some ammonia in her garage. The container is large enough to dip baskets.
She takes her baskets and dips them, lets them dry – and repeats if she wants the basket a little darker.
I asked her for a recipe – how much tea, water, ammonia. She says it's an experiment. She just adds more water and ammonia and tea bags when needed.  Her baskets are beautiful. Maybe you are brave enough to do it her way 🙂
You can also use instant tea. Make up a batch of tea, dip the basket and toss into a garbage bag with ammonia.
To Tea Stain or not to Tea Stain
Tea staining works great on reed or rattan.
I do not suggest using this on basket with wood bases, or baskets made with wood. The process saturates the material which can break wood bases. The tannin in the tea can react with the tannin in the wood, the end result of which is black and not a pretty black. I have used it with success on oak handles, but not much success on any other wood.
I would also suggest not tea staining metal. You will notice I removed the bells from the Christmas basket after it was dry – the process discolored the metal and left black marks on the basket.
Also – if you have dyed reed in the basket, consider that tea staining is like adding another color. If you are using black tea, it will add a little bit of orange. It is beautiful on reds and browns and even some greens, but it makes blues and purples kind of muddy.
If you are interested in patterns for any of the baskets pictured in this blog, just click on its photo.  Except for Farmer's Market – this is a new basket and the pattern is still in process.