My March was filled with traveling and teaching basket classes- I put on over 3200 miles, traveled through nine states and taught 18 basket classes. It was busy. It was fun. I am tired. Since all of my miles brought me south of Wisconsin, I was hoping to experience spring. There were signs … wild daffodils in Kentucky, redbud in North Carolina. And I was able to enjoy coffee outside with a dear friend. However, winter was also evident – two days of snow in North Carolina and at least six inches of that white stuff on the ground in the Virginia mountains. All the while my husband kept reporting signs of spring at home.  So I came home 🙂
I've been home a few days – now that I am settled in, I thought I would share some pictures (well, okay, a lot of pictures – I did teach a lot). Then I plan retreat to the studio to weave 🙂 the best kind of therapy.
My first event was Woven Together in Western Kentucky
Weaving Faded Dreams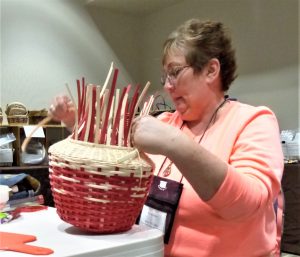 You might know this person 🙂  … sometimes Pam gets to take classes!
Weaving Strata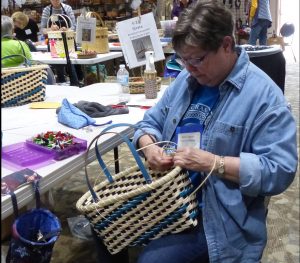 And look – Beckie finished in class.  Evidence that it can happen in one of my classes 😉
Braided Muffin Class — I love how different color choices and different stake numbers change the look.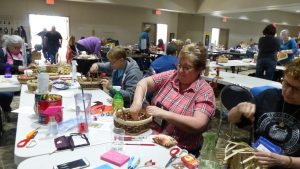 It looks pretty serious, but we did have a lot of fun!
WTWKY was my first event after four months of working at home.  It was wonderful to see so many people I care deeply about! I love basketweavers!
Then after a week at home it was off to North Carolina – First stop Dream Weaver's Guild in Matthews where we usually had three classes happening each day.
Simply Quatrefoil, I don't teach this one often, but it is always so much fun!  Beautiful!
Braided Muffin and Oma's Biscuit Basket – More finished baskets!
Faded Dreams This basket is a favorite this year. It's a bit of a challenge, but the baskets always turn out beautiful!
T Tray  Another popular basket. T Tray is one of those 'not so hard baskets that take a lot of time'. But oh so worth it!
Zoe My rectangular diagonal twill purse. These ladies were up for the 12+ hour challenge. Love the red/black combination!
Wrapped Up So many great techniques in this little market basket.
And paper: Painted Paper Trays and Paper Boxes.
I love teaching at guilds, it is such a nice way to spend time with basket weavers and get to know them. Thanks for inviting me Dream Weavers. I loved hanging out with you!
And then, on a snowy day, I drove from Matthews to Durham for the North Carolina Basketmakers Association 2018 convention, "From the Mountains to the Coast… Never Enough Baskets". I taught four classes:
T Tray  I love this color
Wrapped Up  Are you feeling a bit of Deja Vu? Well, these are this year's top picks!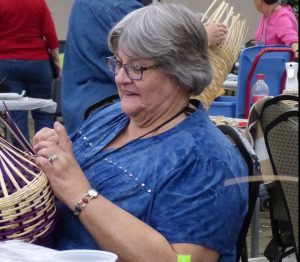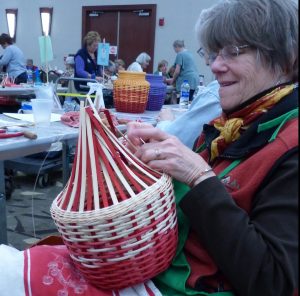 Faded Dreams  I love those faces … concentrating, working, enjoying.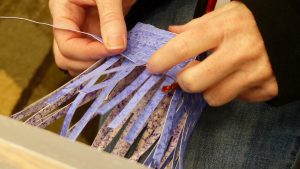 and we played with paper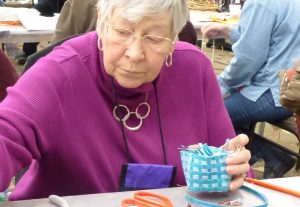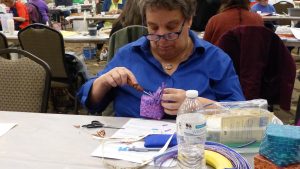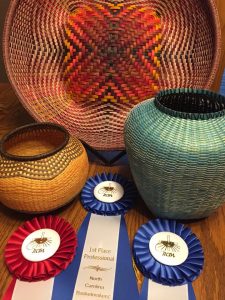 And I was honored to have three of my baskets win in the exhibit room.
Then, before you knew it another great convention was over. The best part – all those wonderful people weaving beautiful baskets!
I enjoyed my travels and was very thankful for uneventful hours on the road. And now I am enjoying  a few weeks at home!
My next event is Stateline Friends Weaving Retreat in Richmond, Indiana. I am looking forward to teaching and I hope to see many of you there.
Wishing you a happy Easter and a warm spring.
thanks for reading the Basket Teacher