Winona, Minnesota is located in eastern Minnesota, sandwiched between the Mississippi River and the river bluffs. It is a beautiful city. Weavin' in Winona happens in a window lined conference room on the Winona State University Campus. A picturesque location and a great facility – and those are just the first impressions of a wonderful basket weaving event!
Three days of beautiful baskets, weaving, laughing and hanging out together!
What a delightful basket weaving classroom! And 'the store' is in the same room.
Shopping and weaving – can it get any better?
I taught three classes – first up Farmer's Market
A little bit of twill weaving and a fun wrap technique …
it's a beautiful useful basket.
On Day Two, I taught on of my new baskets – the T Tray.  First we wove a chevron base,
(yes Jane, you made it on to the Basket Teacher 😉 )
then started up the inside of the basket with some lattice work,
and finished off the outside of the basket with a continuous twill. Lots of work – but worth it!
I just added the pattern to my my pattern store – you can find it here.
Dianne Stanton taught next to me – on day one, she taught her beautiful Choctaw Wall Basket.
Sandy Bulgrin and Ruth Garcia 
and Debbie Hurd were the other teachers at Weavin' in Winona this year.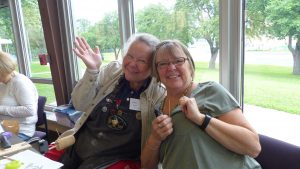 And these two? – best described as trouble 😉
My last class of the event was paper – the Painted Paper Trays
So many fun colors to play with!
We all enjoyed ourselves – and we have these people to thank: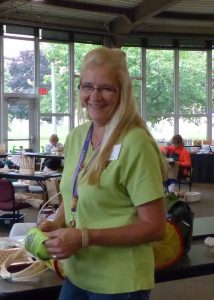 Deb – She has been organizing this event for 17 years! AND she started working on the 2018 event before the 2017 event was even over!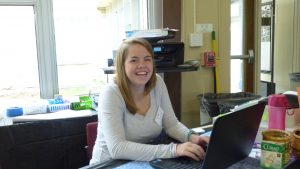 Nicole runs the store – She always has a smile and is ready to lend a a hand.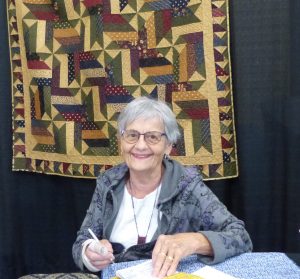 Margaret started Weavin' in Winona back in 1995, so glad she is still involved!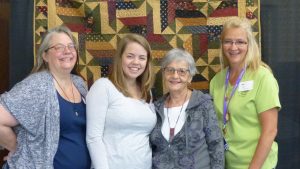 These four people worked hard before, during and after to make sure we all had a wonderful time – and we did! Thank you!
Put this event on your calendar – it takes place in Winona, Minnesota, every year on the weekend after Father's Day. Next year will be Weavin' in Winona's 25th anniversary. You really will want to join us, Deb is already planning some pretty special activities, including a sunset cruise on the Mississippi! You can sign up for Deb's email updates on the website – www.weavinwinona.com.
~~~
And as for me – I am home for a a chunk of time. I have lots of projects to tackle and lots of ideas itching to be more than in my head! First up is taking some time to relax, when I catch my breath I plan to have a summer kit sale (watch for it n early July), work on some new baskets, write some patterns and a few proposals and sit on the deck in the sunshine!
Wishing all of my American friends a happy Fourth of July and to my fellow Canadians – Happy Canada Day – 150 years and counting!
Thanks for reading the Basket Teacher

PS  if you missed it you really should read my interview with Deb.