The Bluegrass Area Basketmakers Seminar, or 'basket camp' as many of the attendees call it, took place last week at the Cumberland Leadership Center in Jabez, Kentucky. For six days the place bustled with people weaving baskets, visiting and sometimes just sitting out on the porch in the rockers. It really is a place where we 'eat, sleep and weave' for a whole week. It was good.
Tuesday, we wove my Braids and Twines – I always enjoy teaching the four strand braid, you can find my tutorial here.
Wednesday, we wove Pinwheels, one of my new designs.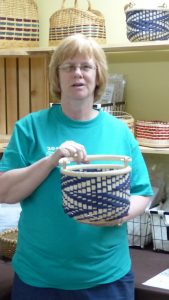 Thursday, we wove Twizarr – a fun twist on a 'simple' twill. Thanks for bringing your basket back for a picture Squirrel.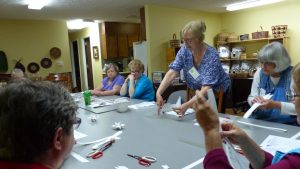 Most days I shared a space with Anne Bowers – always fun. She had a full slate of classes AND she taught the Moravian stars on three different evenings!
Friday, I taught the Farmer's Market.  Carol wove the Inca twill, an advanced twill pattern (included in the pattern) and the rest of the class wove the 2/1 twill.
They all turned out beautiful!
On Friday, I  taught in the cafeteria with Pam Feix – we were a little surprised they let us teach in the same room -either they forgot or it was a space issue.  You won't be surprised to hear we laughed til we cried.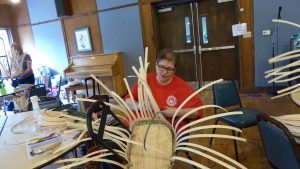 Marty was there to supervise 😉
Saturday, I taught Wrapped Up – so many fun techniques in one little basket!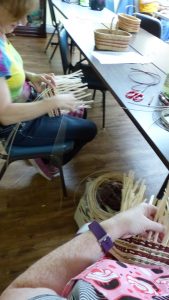 I love teaching the wrap.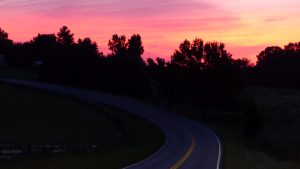 And then it was Sunday, I headed home early enough to see the sunrise on that winding Kentucky road.  So beautiful!
If you have never attended the Bluegrass Area Basketmakers Seminar, put it on your bucket list and check out their website here.