I am just home from the west and another great event. Flying out I had a window seat and mostly clear skies… so beautiful.
Penny picked me up at the airport in Oakland and we drove down the coast to Pacific Grove and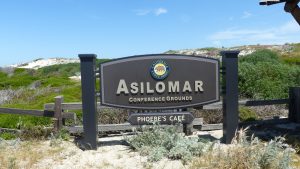 the Asilomar Conference Grounds.  What a beautiful place for the CNCH 2017 conference –

Sapphire Sea, Golden Threads.
The coast was cold, we were mostly bundled up, but Asilomar is set in the dunes right on the ocean, so whether you were walking to class or to lunch, you got a glimpse of the ocean. Breathtaking!
This fiber conference provided a wide variety of classes – spinning, weaving, dying, kumihimo, color theory, basket weaving. It was so much fun to see what people were learning! I wish I could have gotten pictures of all the classes, but we were spread out all over campus, so you will have to be satisfied with pictures from my workshop.
I taught a chase twill workshop.  First we worked on the Leather and Lace Tote.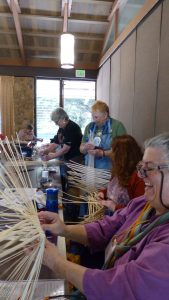 There was lots to learn and everyone worked hard.  And we laughed a lot 🙂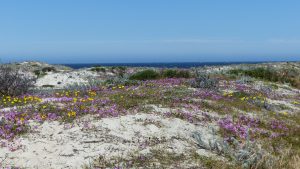 I got in several walks – the dunes
the ocean.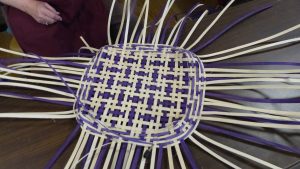 We also wove Voltage – chase weave in two colors –
the Fibonacci twill in two colors!
It was wonderful to work with the same group for three days, we learned so much together! It was a wonderful event. You can learn more about the Conference of Northern California Handweavers at www.cnch.org.
Before I go a few last pictures – two different days, two different views of the ocean.
The ever changing Pacific Ocean.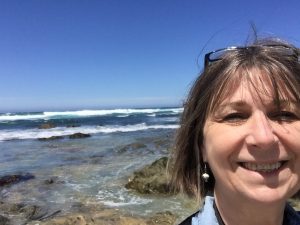 And a selfie – yes I really was there 🙂
I want to thank you for reading my blog.  I have been posting almost every week for almost two years – time for a break – let's call it a vacation. 🙂  I will be back to blog about my June events (three events, three states!) and then in July, my travel schedule slows and I hope to finish up some tutorials and interviews and weave to my heart's content.
While I am gone – weave something beautiful!
thanks for reading the Basket Teacher