Last week I went north to teach at Weavin' Up North in Bemidji, Minnesota. When I left home, my woods looked like this: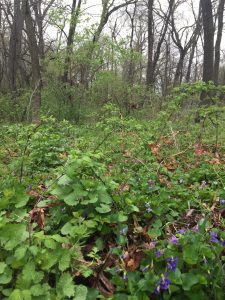 a little green here and there.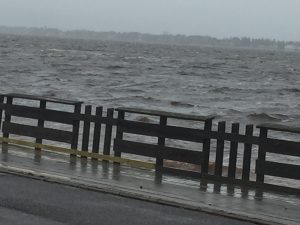 six hours later I reached Lake Superior – cold, gray and SNOWING!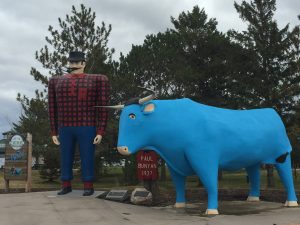 A few hours later I was in Bemidji. The clouds were clearing off when I stopped to get a picture of Paul Bunyan and Babe, his blue ox.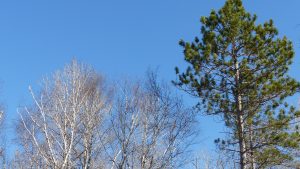 Next morning the sky was BLUE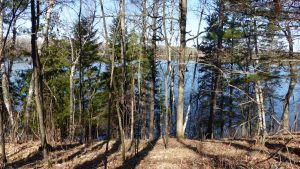 I found the Concordia Language Village and went for a walk,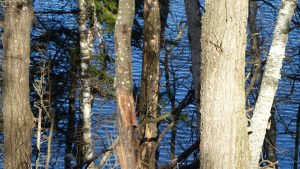 the lake was beautiful.  I didn't see the loon, but I heard it 🙂
Then I found my way to the Finish Village and Weavin' Up North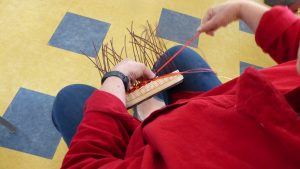 Time for class – Day One Twines and Braids
It was a great class – we laughed, we wove, and we braided!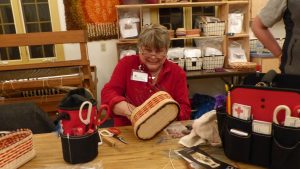 And many of my students even finished the basket in class 🙂
Day Two we wove Qoph
Karen is a fairly new weaver – she was thrilled to finish her basket!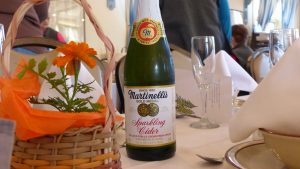 And then we had the Finish Village Banquet.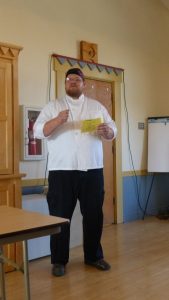 The chef telling us about our four course meal.
Nancy Baer – the event organizer.
This was Nancy's last year 🙁 she is moving south (look out Kentucky weavers, she is coming your way!)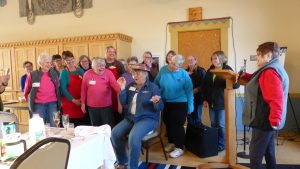 So they had a little 'Nancy roast'.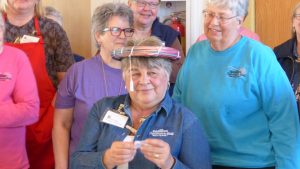 My take is that the Headwaters Basketmakers are really going to miss Nancy – and her cooking!
Day Three – yes it snowed.
We had two warm days with not even a cloud in sight, but it wouldn't be the beautiful north without some snow.
And it was beautiful!
While it snowed, we stayed cozy and warm weaving Whispers
It was a good day to stay inside and weave and chat and laugh.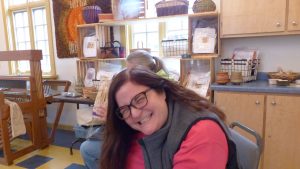 Margaret stopped in to visit and then, trust me, we really laughed. Next time you see her ask her about the toilet seat…
And then we wrapped up another great event! Make plans to attend next year – beautiful baskets, great food and wonderful people. Stay up to date on Headwaters Basketmakers Guild Facebook page
Just so you all know, the snow was gone when I left for home on Monday morning, and when I got home my woods looked like this: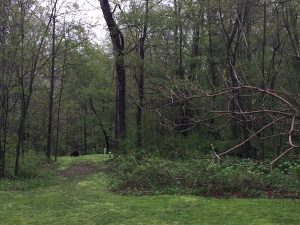 It did not snow at home while I was gone! However, today it is cold and rainy – a good day to be inside.
What's next? I am looking forward to the Conference of Northern California Handweavers! Hope to see some of you there.
Since I have a lot to do between now and then, I won't be blogging till I get home.
Thanks for reading the Basket Teacher