After I unpacked and reorganized after Stateline Friends Weaving Retreat, I spent a few days putting my class materials for Weavin' Up North together, shipped my materials for the Conference of Northern California Handweavers and then I wove!
Ahhh, my hands were happy.
I needed to weave up some class samples-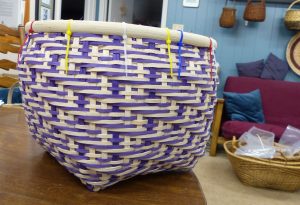 Voltage, just needs to be lashed and
Stars and Stripes needs the star tie-ons.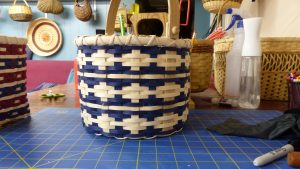 SouthWestern Work Basket – I wrote this pattern many years ago, it's still one of my favorites.
On the mold –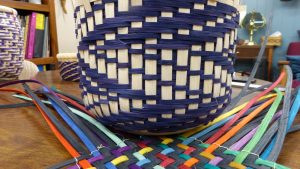 Twizarr – ready to be rimmed.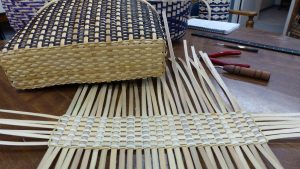 Leather and Lace Tote– love this base! You can find the tutorial for this continuous weave filled basket base here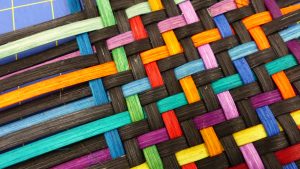 And I played with some new ideas. My favorite base – herringbone. Don't you love all this color? Now to figure out what to do with it.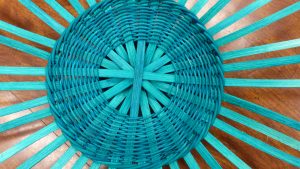 Another base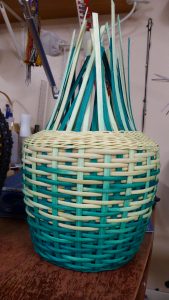 Coming up the sides – I think this one may be a keeper.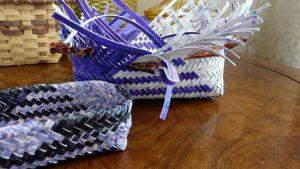 And I played with paper and diagonal twill.
It was a good week, but now my week of weaving is over. Today, I head to Weavin' Up North in Bemidji, MN! I am looking forward to it, I love teaching as much as I love weaving! Hope to see some of you there!
Thanks for reading the Basket Teacher.