Stateline Friends Weaving Retreat 2017 – I'm home sorting through my carload of stuff and a camera full of pictures. For those of you who missed this event – I am sorry. Hopefully you can join us next year. For those of you who were able to attend – it was great fun wasn't it!?
This event is always bustling with energy. People talking.  People laughing. People weaving baskets. People teaching basketry. People shopping for basket supplies. I hope that the photo journal I am sharing with you today gives you a sense of the enthusiasm in the air. I was teaching so I couldn't catch everything or everyone but I think you will enjoy the walk through.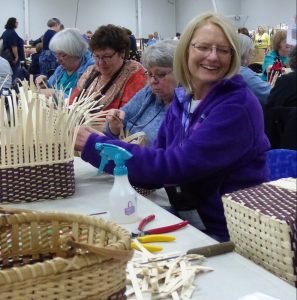 Love that smile! First class of the event – Farmer's Market.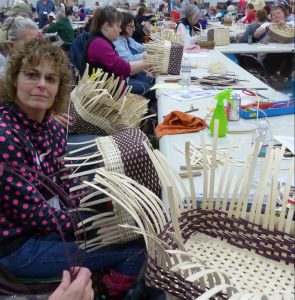 Deanna made a 'Frank' basket. Do you see the arrow! She did it her way – Love it!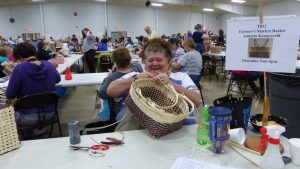 Another smile and almost finished.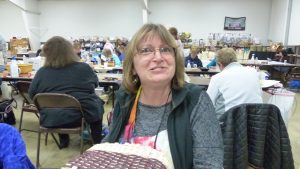 I think this is Lisa's frustrated face :-/
Mary took a class this year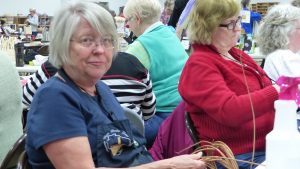 I don't think random weave is her thing 😉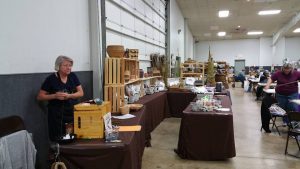 I appreciate Mary coming to man my booth – and it was fun to have a travel buddy! (I grabbed this photo off Pam's Facebook post – all of mine were fuzzy. Thanks Pam 😉 )
 One of my favorite people, Pam Feix!
Photo bombed by Jane!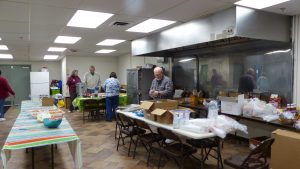 The kitchen, always full of busy volunteers.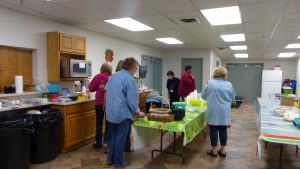 I am sorry I didn't get a photo of them serving up our delicious meals – I was a little busy filling my plate  😉
Some of the other teachers – Barb McNally teaching one of her bead creations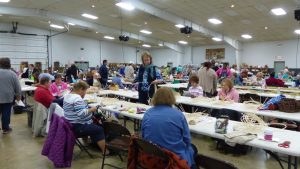 Anne Bowers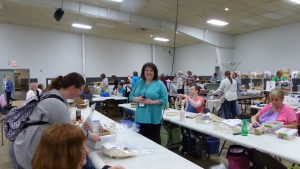 Bonnie Rideout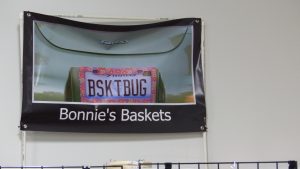 Bonnie was also vending so she couldn't drive her bug, but don't you love her banner!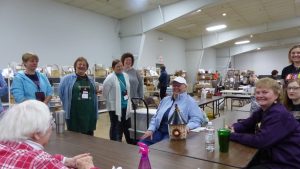 Marilyn Wald. It was so good to see her out and teaching!!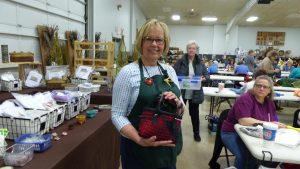 Zoe – isn't that beautiful!
Zoe is always a challenging, intense class, but as Mary said, they all did amazing! That's high praise from the person who tested the pattern for me!
Nancy needed a little help here – but she sent me an email with a picture of her finished basket!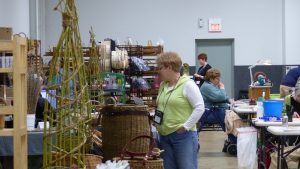 Shopping.
Ready to start weaving Terry?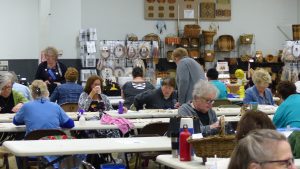 Two teachers in one picture! Marilyn Parr and Laura Lee Zanger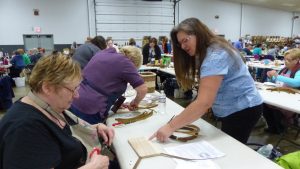 Dianne Gleixner
Bonnie Gale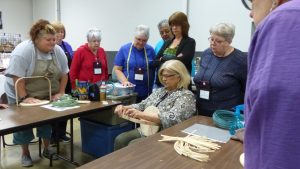 Candace Katz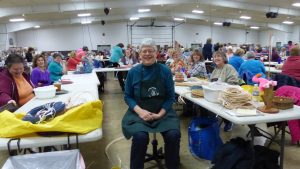 And Flo Hoppe, the queen of basket teachers!
Sorry I didn't get all of you – I was teaching you know!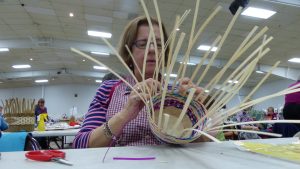 Last class of the event – Whispers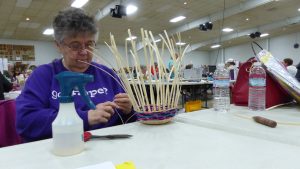 Love the three strand braid!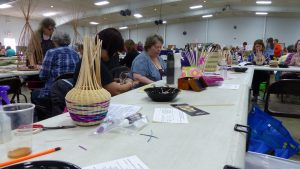 Beautiful!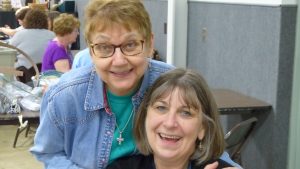 So much fun to see so many of my favorite people!
It was a great event – Thanks to Pam Feix and Debbie Cates, Co-Chairs, and all their helpers. Make plans to join us next year!! www.statelinefriends.com
Thanks for reading the Basket Teacher!