Home from another retreat -the Crossroads Weavers Guild's  24th Annual Mid Winter Get Away in Okemos, Michigan.  I was a little apprehensive about going through Chicago, under Lake Michigan and across Michigan in February – but the weather was amazing.  With temperatures in the 60s, it was more like spring!
And the event wonderful.  Basket classes and mini classes of all kinds kept the weaving room buzzing from early til late. Meals were catered in and delicious. And the weekend provided lots of opportunities to visit with new friends and old.  With everything under one roof, there was no reason to leave the hotel and conference center until the event was over. If you have never attended the Mid Winter Get Away, put it on your bucket list!
I taught three classes – first off ZOE
This is always an intense class – so much to do and so much to learn.
But, ohh did their baskets turn out lovely!!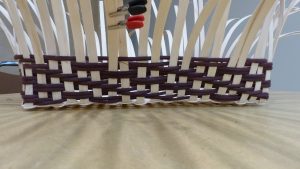 Saturday, we wove my new basket, Farmer's Market.  Linda did the Inca Twill on hers.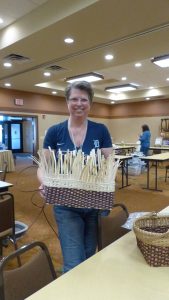 Cindy and everyone else did a beautiful, but simpler twill.
This pattern is now available in my pattern store.  Find it here.
And then we wove Twines and Braids.  This basket is all technique.  A great way to perfect the step up and the four strand braid.
Find the Twines and Braids pattern here and click on these links to see my step up tutorial and the four strand braid tutorial.
It was a great event- lots of good people, lots of laughter, and lots of good food – and the cookies, oh my!! Next year will be their 25th!  Its sure to be impressive! Plan to attend!
You can keep up with the Crossroads Weavers Guild on Facebook!
Thanks for reading the Basket Teacher