When I spend most of my time in the studio, ignoring my computer, blogging becomes a reflection of that. Not always exciting, but it is my life. So here's what I've been doing:
Tiny Stuff
We had our first real frost over the weekend and the air finally has a hint of winter in it. I'm not quite ready to decorate for Christmas, but it did remind me that I wanted to share my trees with you.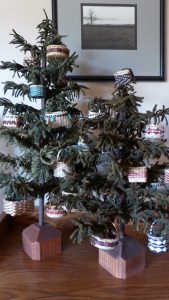 While I was teaching in Maryland, I was introduced these fun little trees. They are beautiful! and a wonderful way to display some of my miniatures baskets. They are called Wooly Pines. You can get more information by emailing Mary A. at  woolypines@comcast.net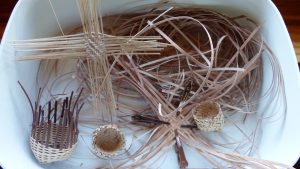 I'm hopelessly addicted to miniature baskets – I always have a few 'itty bitty' baskets in process.
Dyeing Reed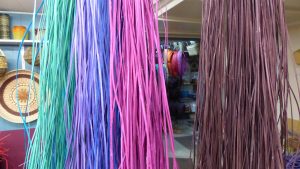 I had the windows open all of last week – this is pretty unusual for November in Wisconsin, so I took advantage of the weather and dyed reed to my heart's content. This week it's a little cooler, Monday, I went down and sorted, organized and vacuumed – trust me it needed it.
Testing Basket Patterns
Prepping to teach is more than just weaving an idea and proposing it.
This week my friend Mary came over to test my new basket, ZOE.
I'm not exactly sure how Mary is feeling about this new 'guinea pig' status of hers, but those of you planning to take this class in 2017 owe her a thank you (though she might prefer a glass of wine after today). Boy oh boy were there bugs to work through!! Thank you Mary – class will be so much more fun because of you!
Weaving Just for Me
And while Mary was slaving, I played 🙂
When I was at the AMB convention in October, I bought a kit for one of Jill Robinson's baskets, "Santa Fe Tote". It has been so much fun to weave!  I'm almost done! I can't wait to start using it! You can see the finished product on Jill's website http://onebasket.net
New Stuff and Ideas
I have a several baskets to reweave before I begin to write patterns and/or teach them. It's a process – from idea to basket to paper to class.
Being Home
It's good to be home.  I have had a chance to do some more interviews, I can't wait to share them with you.  I have a a couple of tutorials to finish up – really I promise!  Mostly it has been good to weave, my hands are happy.
And I am enjoying time with some of my little people.  Six year old Evie and I went out for tea last week and four year old Miles just had a birthday so we have a lunch date tomorrow. Next week is Thanksgiving – still not sure what I'll blog about – we'll see …
till then, thank you for reading the Basket Teacher