I just got home from my trip to the Northwest and the Columbia Basin Basketry Guild's Fall Retreat.
The event took place at Rockaway Beach, Oregon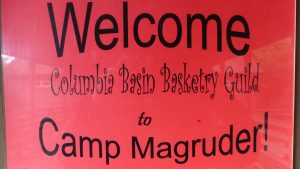 at Camp Magruder.  After I got unpacked and set up, I took a walk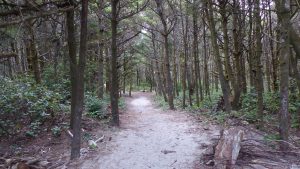 through the woods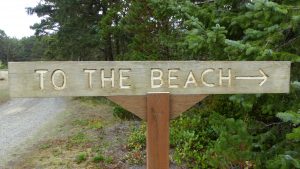 to the beach.
🙂
What a beautiful location!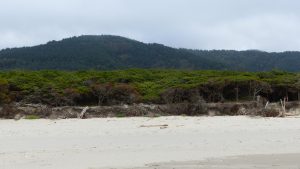 Camp Magruder is back in those trees.
Camp Magruder is a great retreat facility and the event organizers and their troop of volunteers put on a wonderful event. Besides offering a variety of classes, they also offered fun activities each evening. We all enjoyed Dawn Walden's presentation on Friday night and the Gallery Exhibit, Baskets. Naturally., on Saturday night.  Even the raffles and auctions were fun -of course we had George the Auctioneer. I didn't get pictures of all the activities but I did remember to take pictures in my classes.
The Mini Southwest Work Basket
Montana – one of my most challenging baskets!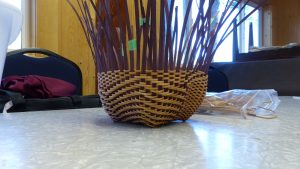 Success!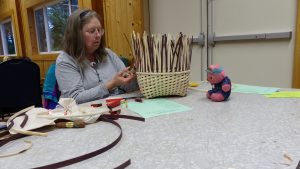 Blithe and Bearly were in my Three Squared class.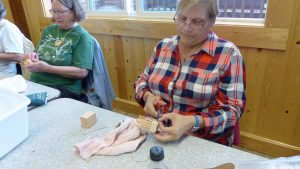 And the Miniature Market Basket.
My students worked hard and learned a lot – they also laughed a lot!
 My class room looked out at the lake, typically we could see it- but Sunday the fog rolled in as we rolled out.
The 2016 Fall Retreat was wonderful.  If you have never attended the CBBG Fall Retreat, you will want to put it on your bucket list – I mean, what could be better than weaving right on the ocean?!!  You can get all the details on their website http://basketryguild.org/
Next I am off to the Wolf River Fall Retreat in Shawano, Wisconsin!
Thanks for reading the Basket Teacher