And I am home from another great basket retreat …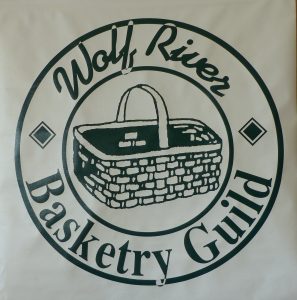 the Wolf River Basketry Guild hosted their annual Fall Retreat in Shawano, Wisconsin.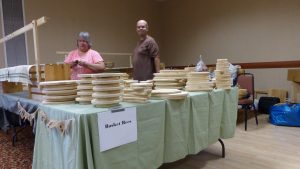 It was fun to see the folks from Basket Bees www.basketbees.com,
 Barbara from Countryside Basketry Supply  www.countrysidebasketrysupplies.com ,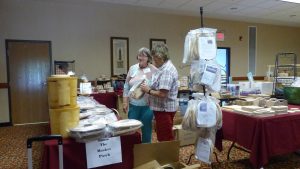 and Shirley from the Basket Patch  www.thebasketpatch.com.
Three great Wisconsin Basket Business – be sure to check them out by clicking on the links I have provided!
And we had basket weaving classes – three days of classes!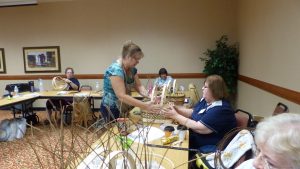 Gina Kieft was there teaching
and so was Char Ciammaichella – you  can't see Char, but you can see people were enjoying her classes.
I taught three classes, one of them a new basket,
Twines and Braids.
The four strand braid was a new technique for most of my students.   I plan to tweak the pattern this week, then I will release it next week when I post the tutorial for the four strand braid.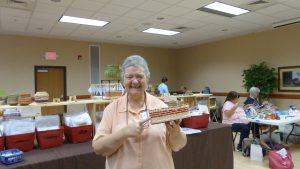 And you will notice Kathy made it 'her way'.  I call it her Frank Sinatra basket 😉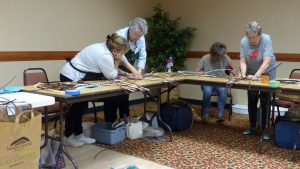 My students worked hard on the base of my Three Squared basket
and you can see that they worked it out!  Everyone's basket turned out beautiful!
And I taught Flight.
Flight is a beautiful little basket with a number of Ti-Twining techniques. A lattice work base (sometimes called a chevron base) and arrows on the sides.
And we had lots of fun colors – from spring green to hot pink!
The event was pretty relaxed, everyone enjoyed weaving and shopping and visiting (mmm, Judi, weren't you supposed to be in my class?) 😉 We really did have a great time!!
Each year, the Wolf River Basketry Guild hosts two events, a spring workshop and a Fall Retreat.  You will want to check out their website www.wolfriverbasketguild.com.
Thanks for reading the Basket Teacher!