I just got home from 'Celebrating 25 years of Weaving Friendships' at the  Stowe Basketry Festival. It was wonderful and worth every mile!  Thank you Merry Vigneau, the staff at the Round Hearth, and all of you who came to teach classes or to take them.  I'll keep the words to a minimum and share a 'few' pictures:
The Round Hearth, where we ate and slept and visited.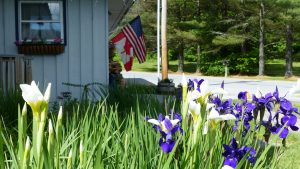 The Stowe Basketry Festival is an international event – the US, Canada, Japan and Russia were represented this year.
I taught for four days – Day 1- Surreptitious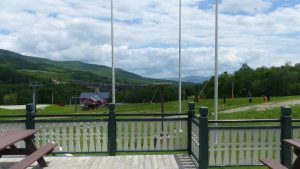 We wove up on the mountain -this view just out our classroom window!
Day 2 – Porphyry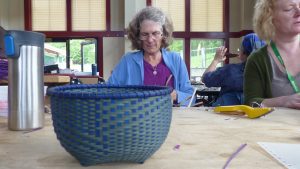 I didn't teach this at the festival, but Maggie brought it in to show me.  She used my pattern, Montana, and made it in blue and green – Big Sky and Pines.  Its beautiful!  Thanks for sharing Maggie.
Day 3 – Qoph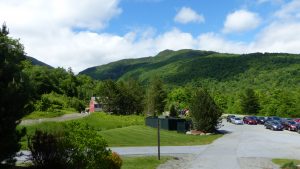 Everyday – this view.  I could get used to this!
And Day 4 – Whispers (yeah, I know – finally a name you can pronounce.)
There were other teachers – including Pam Talsky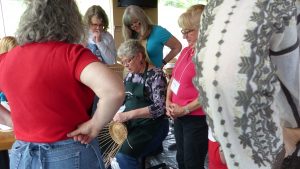 Flo Hoppe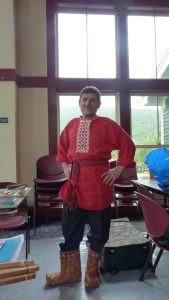 and Vladimir Yarish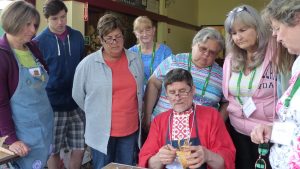 Day 5 – I took a class with Vladimir
Traditional Russian Birch Bark – so much fun!!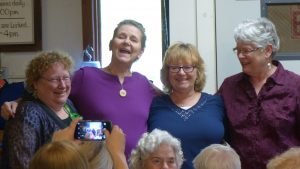 And there was a banquet where we celebrated the Festival's 25th anniversary.  These four – Teresa Gage, Dianne Stanton, Merry Vigneau and Flo Hoppe – have attended all 25 events!  Teresa as a student, Dianne and Flo as teachers and Merry – owner of the Round Hearth and event organizer.
Chris Vigneau and his staff at the Round hearth did a wonderful job – Thank you.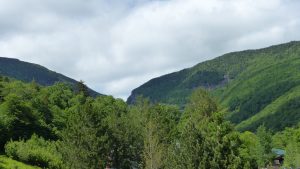 There was a Day 6 and a Day 7 of the event, but I was unable to stay — sad to say good-bye to a great event and a beautiful location.
If you have never attended the Stowe Basketry Festival – put it on you bucket list! Visit their website here or check them out on Facebook.