Each April, Pam Feix, Debbie Cates and the Whitewater Basket Guild in Richmond, Indiana host a spectacular three day basket weaving event, Stateline Friends Weaving Retreat. Four hundred people (basket weavers, basket teachers and vendors) gather together to weave baskets,  learn new weaving techniques, stock up on basket kits and supplies, enjoy each others company, catch up with old friends and make ones.
That's right, Eat, Sleep Weave about sums it up.  🙂 Many of us look forward to this basket event all year long, staying up until the stroke of midnight so we can register on opening day (typically registration is full by the fourth day!).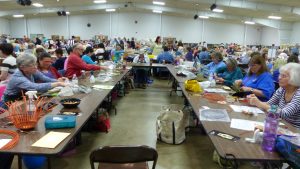 Everyday there were 20+ basket classes happening in one large room. So. Much. Fun.
I was excited to teach three classes: Qoph, Three Squared and Recursions. I had great classes and great students! I also vended – well, my friend Mary came along to vend for me. She worked hard but did find some time to weave.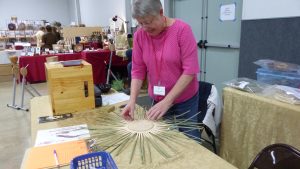 After three days of watching basket classes of all kinds, she tells me next time she's going to take classes!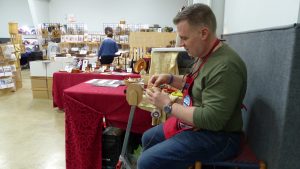 Tony Stubblefield was vending next to us. Between customers, he kept busy demonstrating his weaving stands. He made some absolutely beautiful baskets over the weekend!
And now a peak at my classes:
Qoph – from start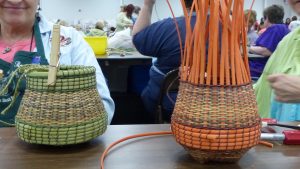 to almost finished.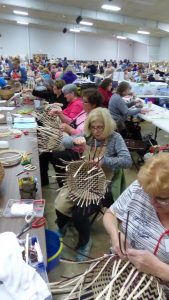 Three Squared – beautiful inside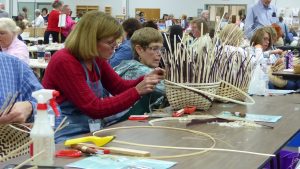 and out.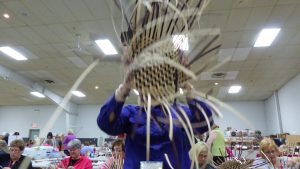 There was an attempt to get a picture of me demonstrating my 'head trick'. Sorry, not this time 😉
Recursions – big
and little.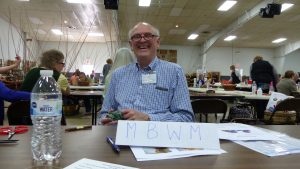 On day three, Joe made a sign 'MBWM'. I think he was feeling a little out numbered, so he's starting a new group Male Basket Weavers Matter. Good luck, Joe!
Thank you Debbie, Pam and the Whitewater Basket Guild – you're the best!