This week I will be teaching one of my new basket patterns, Recursion, at Stateline Friends Weaving Retreat in Richmond, Indiana for the first time.
So I am releasing the pattern!
Recursion is a set of 5 or 7 nesting baskets, made with 1/8″ or 1/4″ strips of painted paper.  These bias weave baskets range in size from  3 ¾" x 3 ¾" x  2" down to  5/8" x 5/8" x ¾".  So much fun to make!
Last week I spent my days preparing for class. Preparing for a paper basket class is completely different than preparing for a reed or wood basket class. First, I painted lots and lots of sheets of water color paper.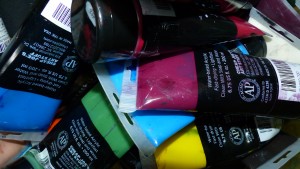 Each sheet takes a fair amount of time: each side requires a base coat,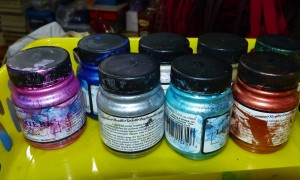 the addition of one, two, three or even four accent colors, a coat of sealant
and, of course, time to dry between  all those steps.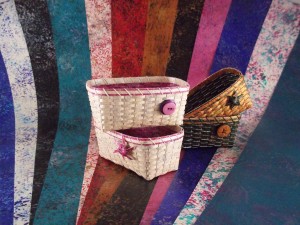 Each sheet is cut into 4″ or  5″ strips using my rotary cutter.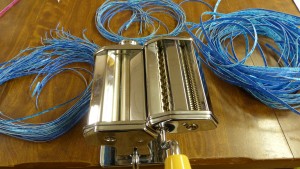 Then, I use a hand crank pasta cutter with fettuccini (1/4") and linguine (1/8") cutters to cut each wide strip into narrower weaving strips. [After destroying a cheap pasta cutter, I purchased a Marcato Atlas 150 – it seems to be holding up to my abuse.]
One large sheet makes enough material for one set of seven nesting baskets made with 1/8″ strips and one set of five nesting baskets made with 1/4″ strips.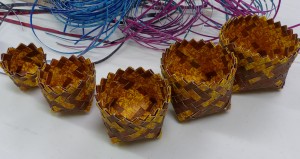 Today, the paper is painted and cut and packaged – ready for class. And the pattern, Recursion, is available in my PDF pattern store – you can find it here.
I will have patterns and paper for sale in my vending both at the Stateline Friends Weaving Retreat this week. My bags are packed, my vehicle is loaded – I hope to see you there!