warning – this post will be as scattered and messy as my studio 
My studio is a mess, this is what awaited me this morning…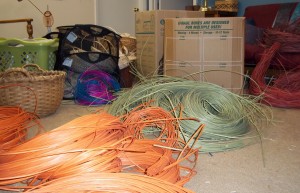 and that's just one corner. This will be another week of cutting and counting and bundling and packing basket kits – three thousand or so stakes, pounds and pounds of round reed, and thousands of yards of cane – by the end of the week I should have several hundred kits ready for my March and April basket classes.
Step one – blister prevention. Actually blister protection may be more accurate, I already have blisters.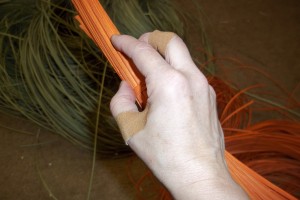 I love teaching, not so much the kit prep. Packing basket kits is tiring and my back aches at the end of the day, but since I have notes and check lists, parts of the process is pretty mindless. However that doesn't mean my mind is on auto pilot. I listen to books on tape (currently half way through Lord of the Rings), I think about baskets and sketch ideas.  You know I'd rather be weaving a basket :-), but sketching and planning is a close second. I think about blog posts (if I can't be weaving baskets, I like writing about baskets), so I make a lot of notes. Much of what I accomplished today happened inside my head. To bad I can't post a picture of the ideas tumbling through my brain. Hmm, you're right, it's probably good I can't share that, it might be to interesting.
Moving on — here are some of the things I am working on in my head and scratched on paper…
Resource Page
I am working on a basket resources page for my website. An index of my basket weaving tutorials and a list of basketry suppliers.  If would like to have your basket business listed on that page please message me here.
Future blog posts
I am going to start a series of blog posts on shaping baskets. Recently I had my husband video tape me weaving a basket, not for publication but for me to watch. It is interesting to watch myself weave. My hands just weave, it looks (and feels) automatic. I'm unpacking it and putting what my hands do into words – and hopefully some nicely done videos.
Also there is a great deal of geometry behind shaping a basket. I don't particularly love math, but I do love this! So I think a series on shaping would be fun – some blog posts for you to watch for.
For those of you who have asked, I do have several basket lashing blogs in process, I will post them as I complete them. (If you think your UFO basket pile is large, you should see my file of UFO blogs!)
Basket pictures – in my head
I have an 'idea wall' by my weaving table. I have a lot of pictures in my head and I try to weave a lot of them into baskets. Sometimes it is bad and the whole thing goes into the wood stove (yes fire!). Sometimes part of it is bad and part has potential – out come the scissors: bad in the fire and potential on the wall, the idea wall. Sometimes an idea from the wall comes down and is added to a new design. One 'almost beautiful basket' is a good reminder to be more careful with glue.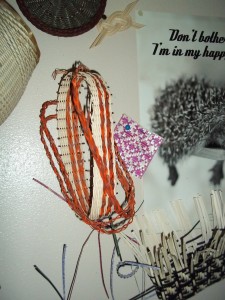 In a lot of ways my idea wall is a collection of the pretty parts of failed attempts. A way to remind myself that failure is part of success. So while I am cutting and counting and bundling and packing – I keep a sketch pad and pencil close and I remember that while I may not be weaving a basket today, I will be soon. I'm so thankful to be able to do what I love.