Today I am posting a tutorial on another way to double lash your basket. Last month, I posted 'Lashing a Basket with Waxed Linen' and, in that post, I showed how to lash with waxed linen and how to do a V lash. This tutorial will show you how to lash a basket going around the basket once and creating a double lash with a double X on each lash. If you are new to lashing with waxed linen you may want to read  'Lashing your Basket a Waxed Linen' to learn how to start the lasher, add on, and end the lasher.
The Double X Lashing
Starting just to the right of the overlaps (to the left, if you weave left handed), secure the waxed linen and thread it from outside to inside in the next space.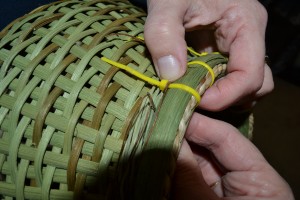 Read more