I am home and sorta unpacked – the Texas Basket Weavers Association 2017
conference has come and gone.  It was a great event a great line up of teachers and a wonderful group of students! As well as, wonderful baskets, both being woven and exhibited. I was honored to have won first place in the professional category – thank you Texas!
My only complaint was that it rained a lot and then when it finally cleared I was to busy to get outside to enjoy it – but hey, it was warmer than Wisconsin!
My students worked hard –  they learned a lot and made some beautiful baskets!
First class of the event was Whispers – Vicki set the pace and finished a beautiful basket.
And it was fun to have Linda in class  with me 🙂 , as Conference Chair, she was pretty busy. Glad she could get some weaving in!
Here we are working on my new basket Pinwheels.  (The pattern is now available.)
I love these two pictures – they so perfectly depict a basket weaving conference – hard work, beautiful baskets and visiting with old and new friends!
I taught two paper classes –
Recursion – paper nesting baskets
And we then we wove my Painted Paper Trays
I love painting the paper, so it is always fun to see how these baskets turn out – the pattern may be the same, but the color choices shake it up!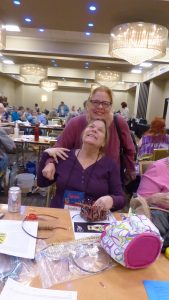 These two crack me up – Darcy and Sandy!  I love the people I have met through basketry!
Thank you Texas Basket Weavers for another great event – it was wonderful! If you weren't there – consider joining us in 2018.  http://texasbasketweavers.com/
And now I need to finish unpacking and repack  – next week I head to Atlanta for the Georgia Basketry Association 2017 Convention …
thanks for reading the Basket Teacher