Along the same vein as last week, being the child of Dutch immigrant's meant that New Years the house was full of relatives and we made Oliebollen. Translated that means Oil Ball.  I know I know, it doesn't sound very tasty, but trust me they are.  An Oliebollen is basically a donut with fruit in it.
I don't make Oliebollen, my husband does.  He inherited my mother's deep fryer and loves to make them.  When our kids were home we always made them on New Years. Today our kids live scattered across the country and we don't always make them on New Years, however, when we get together, whenever that is – we celebrate every holiday we can think of – including New Years!
And so – just in case you feel like trying these – here is Ralph's recipe for
OLIEBOLLEN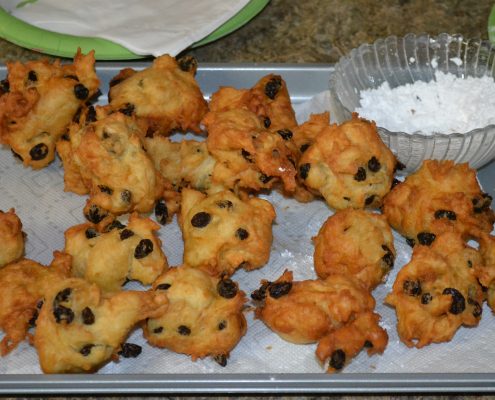 2 TBSP yeast
1 tsp sugar
½ cup warm water
3 cups milk- scalded and cooled to lukewarm
¼ cup sugar
1 TBSP salt
3 eggs
¼ cup melted margarine
4 cups dried fruit (raisins, currants and …)
7 ½ – 8 cups flour
48 oz oil
Mix yeast in warm water with 1 tsp sugar.  Let stand for 10 minutes. Mix melted margarine and lukewarm milk; add remaining sugar, salt, eggs and 2 cups flour.      Add yeast mixture and dried fruit.  Stir in remaining flour.  Mix well.  Cover and let rise until double, about 2 hours.
Heat oil in a Dutch oven or fryer.  Test oil by dropping 1 TBSP of dough into oil. When it sizzles oil is hot enough (May also test by dropping an unlit match into the oil, when the match ignites, the oil is hot enough) Oil temperature should be 350° – 375°.
Drop rounded TBSPs of dough into oil.  Fry each side until golden brown.
Remove from oil and cool on paper towels.
Serve with powdered sugar.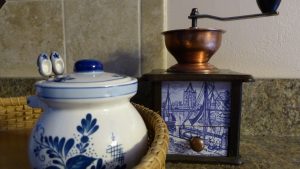 Next week we'll be back to basket topics – meanwhile
Happy New Year – May 2017 be filled with Blessings & Joy!
 thanks for reading the Basket Teacher