It's the Christmas Season – so our guild just had it's annual Christmas party.  In addition to delicious food and planning our 2017 calendar, we also returned our traveling baskets to their owners.  We always have so much fun with this project.  Curious?  Check out my post from last year about how the Traveling Basket Project works here. Here's a peak at some of this year's baskets:
HELP!!  its a little late for this year, but next year my guild is thinking about weaving sleighs.  One of my all time favorite sleigh patterns is Reed Santa Sleigh by Helen Springer.  I spent a chunk of time looking for the wood base/wrought iron runners for this basket and I kept hitting a dead end.  So I dug out some of my other sleigh patterns and hunted for those bases.  Dead end.  I've spent a week on this (!) so I'm going to throw it out to you –
Do you have a favorite woven sleigh?  Do you still have a source for the base assembly?  Do you know anyone making the runners for Helen Springer's pattern?
And while we are talking about sleighs – would any of you be interested in bases for my  sleigh pattern "A Winter's Sleigh"? I haven't had any made for a while – maybe  its time to bring it back.  What do you think?
And this week I got a fun note from the Tampa Bay Basketmakers.  They used my Six Point Star Tutorial for a mini workshop!  Note only did they send a note – they included pictures!
Annetta –

I just wanted to share with you how the Tampa Bay Basketmakers Guild used the 6-pointed stars in a workshop.  The Guild provides mini-workshops for walk-ins at a gallery in St Petersburg FL and this past Sunday was a starry-starry night. I've attached several photos of how the stars were used – garlands, package decorations, necklaces for young ladies.  All attendees enjoyed learning how to make the stars and took spare strips with them so they could make more at home.  The instructions on your blog helped Guild members prepare for teaching the paper stars to others.  Thank you for such wonderful detailed instructions!

Jan Oberlag

Vice President of Tampa Bay Basketmakers Guild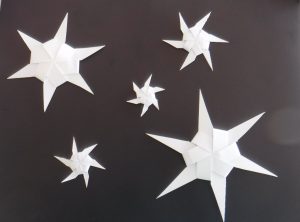 Thank you so much for sharing your guild's project Jan.  I get pretty excited when I get emails like Jan's – I love seeing what weavers do with ideas!
Want to make some of those garlands or package decorations – click here for the Six Point Star Tutorial
Wishing you a wonderful holiday season – filled with sparkling snow and starry-starry nights!
thanks for reading the Basket Teacher