I got home last night from teaching at two great guilds, the Central Pennsylvania Basketry Guild and Deer Creek Basket Guild in Maryland.  We all had a great time!
First stop was Central Pennsylvania – where I taught four different baskets.
Flight –
A few of my students made baskets to match their clothing!
Three gals made Qoph .
The next day we worked on Arrows
and Three Squared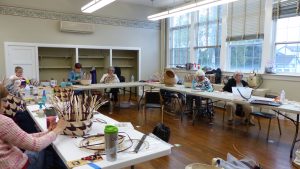 As you can see, everyone worked hard, but they also visited and laughed a lot.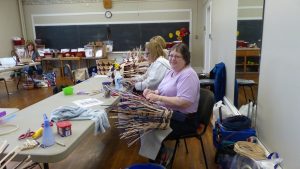 One of these baskets is not like the others!
Dorothy came to finish a basket, the  Plaid Beach Tote, from a Weaving Odyssey class a few years back.
And then I went to the Deer Creek Basketry Guild in Maryland.
On day one we made  Qoph
and  Flight.
 On day two we made Whispers
 and Steppe.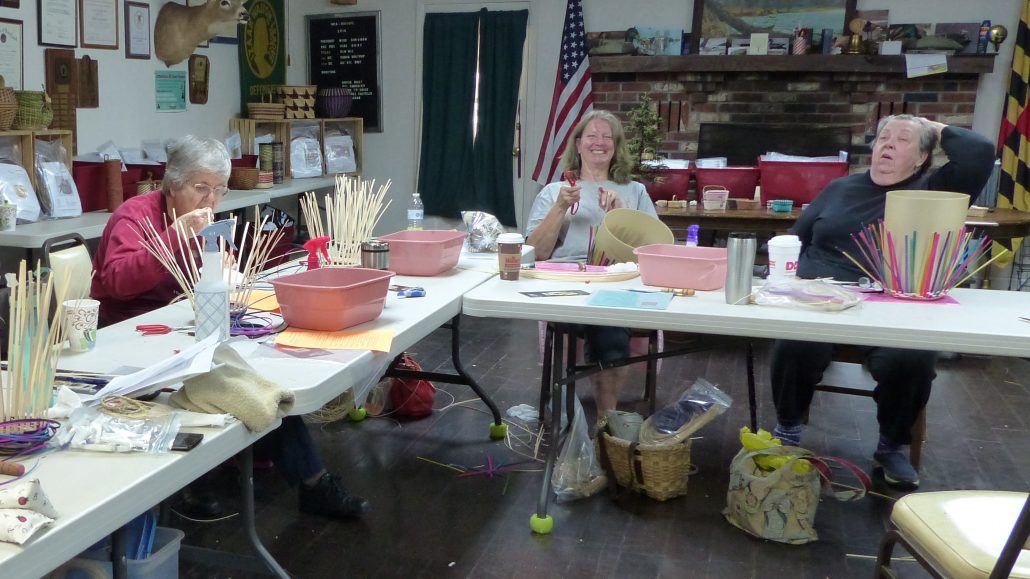 This picture really captures this class (actually a lot of my classes), besides weaving – we ate, we laughed and there was the occasional "what was I thinking when I signed up for this class!!"
I really enjoyed my time with these two guilds, thank you for inviting me!  And a special thank you to Donna and Kathi for hosting me!
And thanks to Jen, I have a picture of me!
Next up – I will be getting ready to head to the Michigan convention.  I have an exhibit basket to finish and as soon as I finish my raffle basket I will post a picture of it.
thanks for reading the Basket Teacher