In the Studio
Usually July in Wisconsin is hot and muggy, so I spend my days in the studio. I like working in the studio and I have accomplished a lot. Pounds and pounds of cane and reed have been dyed beautiful colors. I even have it bundled and ready for basket kits!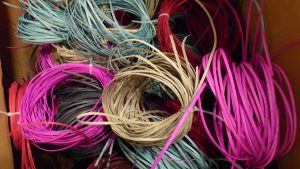 I love the dyeing part of kit prep; sometimes when I'm done for the day I will wander back down just to look at the color.
And while the counting and bundling is kind of mindless, it does give a sense of accomplishment when its done. And since its mindless, I finally got to listen to the 'The Martian' by Andy Weir.
I've also been painting paper – sheets and sheets of it. Its taking over the  studio.
And the guest bedroom. In a few days I will be able to cut and bundle it for class.
And now that the messy stuff is done, I think I will move my class prep outside because this July is not hot and muggy. The deck has been calling me for days – the sky is bright blue and the weather is perfect.
Upcoming Events
Right now I am prepping class kits for my basket class at Dianne Gleixner's studio on Saturday, and my August events -the Missouri Basketweaver's Guild Convention in St. Louis and the Heritage Weaver's Fall Event in Dayton Ohio.  My fall 2016 schedule is full until November and my 2017 schedule is starting to fill up.
Wondering if I will be at a basket event near you?  Check out my teaching schedule here.
New Baskets
That's another thing I am working on, writing patterns for my new baskets.
You should see the patterns for these two baskets, 'Painted Paper Trays' and 'Twines and Braids' early this fall.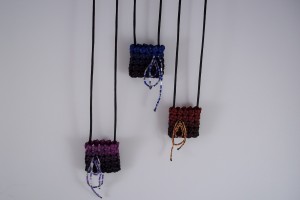 And the pattern for my newest miniature, 'Ombre' Knots', will be out in late October.
Coming up on the Basket Teacher
I have a few tutorials in process and an interview – Somewhere between class prep, pattern writing and submitting proposals I am hoping to finish those and get them posted over the next few weeks.
And just so you know – I'd really rather be weaving.  
I have this base sitting on my weaving table taunting me.  If I don't get those class kits finished, you'll know the basket won!