I lash a lot of baskets with waxed linen; I weave tight, I weave small, I weave with stakes close together – waxed linen works for me. And I like the way it looks. Lashing a basket with waxed linen is much like lashing with a length of reed, but there are some key differences.
What you need:  
Waxed linen – I typically use 4-ply for regular sized baskets.
Tapestry Needle – use a size that is easy to thread and not to large or to small for the basket you are lashing.
Starting the lasher:
Cut a three – four foot length of waxed linen, thread your needle and, going from outside to inside, insert it into a space just to the left of your rim overlap (to the right if you are left handed and will be lashing from left to right). Pull the needle and waxed linen through until you have a tail of about four (4) inches on the outside of your basket.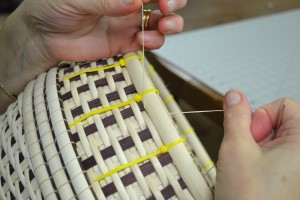 Read more