Yup, I'm a little surprised myself! This is my 52nd post!
About eighteen months ago, I started thinking about writing a basket blog. So I started researching and asking questions. Of course that just raised more questions, but I was getting more and more interested. So I made a list of what would need to happen – I almost stopped there!
First I had to build a new web site. Being Dutch, I was too cheap to pay someone else, so I spent a whole month just reading and taking notes. Boy that was steep learning curve – I didn't understand a word for the first week! Then, with more guts then 'know how', I got started, wading deep enough to even write some code (makes me sound smart, but trust me, I forgot how to do that as soon as I could!)
It took me several weeks – but suddenly it was August, 2015 and I was ready to go live. I held my breath. It worked! It looked pretty good. And for a few days I was up and running – then EVERYTHING disappeared. I called my server. The tech said, "No problem, we'll get it back up for you". Two minutes later, "Well … let's look at … (total silence) Oh no, this is not good".  PANIC! Not what you want to hear the tech say!  Thankfully I had done a back up the night before and so it  wasn't as bad as it could have been – but there were a several tense minutes!
Its been quite a year, I –
Now here it is a year later. I blog once a week, I have some readers and more blog ideas then I had when I started! My posts and pictures are not perfect (thanks for overlooking my typos-you know I'd rather be weaving!), but I have been enjoying this process of writing and sharing.
I have had a few people ask me how I find time to blog – that's a good question. Last summer, I had this grandiose plan to be writing well ahead of deadline – HA! between events, packing kits, weaving and life in general – I blog by the seat of my pants. Maybe in year two I'll figure out how to be writing ahead of schedule – then, I'll let you know how I do it!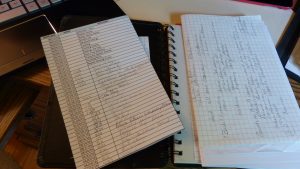 Thanks for being a Basket Teacher reader!