Here it is the first week of December with a dusting of snow on the ground … a good time to talk about Christmas baskets and ornaments. I'll share my favorites and you share yours. All I need is the name of the basket or ornament and the designer; however if you have a picture and a link would be wonderful and I'll be happy to publish them as well.
First a few of my designs:
A Winter's Sleigh – the pattern is available in my store and the base  assembly is available from East Troy Basketry.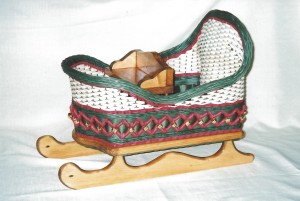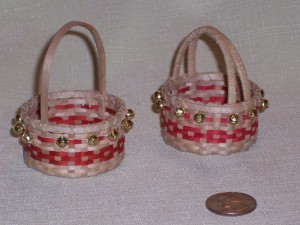 Mini Christmas Bells is the only miniature I designed specifically for the season, but all of my miniature baskets make great ornaments. I make my miniatures with black ash, but I have had several weavers tell me that they have made them with cane. (Scrape the underside of the cane before soaking to make it more flexible.)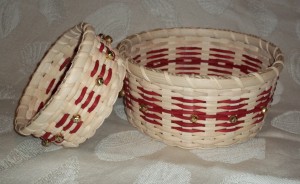 All of my Christmas appropriate patterns are 20% off until December 15, 2015 – that includes A Winter's Sleigh, all of my miniature basket patterns and the Christmas Bells Gift Basket pictured on right.
Designs from other artists:
One of my new ornaments this year is  by Pam Feix – "Tinsel Time". It was so much fun to make! Click on the photo below to visit her website.
The Carolina Snowflake is one of my all time favorite woven ornaments. I've lost count of how many I've made; I've made them in all sizes, extra large to very tiny and in every color. The original pattern is by Billie Ruth Sudduth, you can find it here. The pattern for a twill version called the Penna Star can be found here.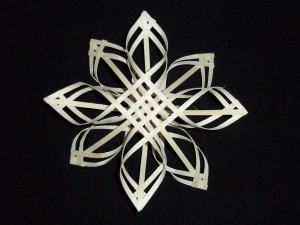 I haven't made one of these yet, but Sharon Klusmann has the cutest Snowman Hat patterns – available in two sizes! Click the photo below to visit her website.
These are just a few from my stacks, now its your turn to share your favorite Christmas basket patterns. Please include the name of the basket (or ornament) and the name of artist who designed it; you can also include a picture and a link. Feel free to share your original designs as well!