While weaving a locking row around the base of your basket is not always necessary, sometimes it is an important part of shaping or maintaining the shape of the base and sometimes  this single row adds strength to the basket.  You can weave a locking row with flat material or round material.
Using Flat or Flat Oval Material to Lock Your Base
If all of your weaving material is flat, maintain consistency by using flat material for the locking row.  This type of locking row helps control the base shape while adding stability.  I like to use  it on an open base and on bases that have fillers, see photos below.  To weave a row like this, use a piece of flat or flat oval material that can go around the basket once plus 6 inches. Then, starting anywhere, weave over one / under one, when you come to a corner turn the weaver to create a mitered corner.  Finish by weaving a four stake overlap.
Using Round Material to Lock your Base
A locking row can also be twined with round material.  This type of locking row looks best when the basket uses round material, flat oval material or a variety of materials.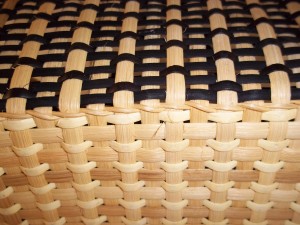 Use a piece of round reed that can go around the basket twice plus about eight inches.  Fold this piece in half, crimp it by flattening with needle nose pliers, then loop around a stake and begin twining.  Twine around the basket once, then end the pieces by bringing them into the loop and under the stake. Trim. See photos below.
Making a Purposeful Twining Mistake
Sometimes when you are twining around a corner the weaver wants to slid under the stake like this: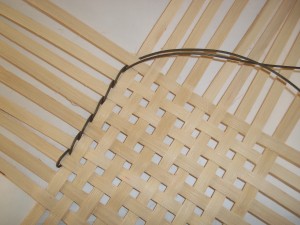 Don't let that happen, make a purposeful twining mistake like this: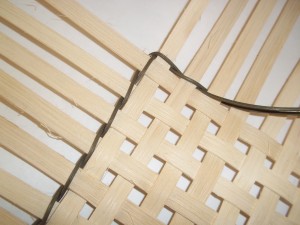 The Sanity Saver
There is one other kind of twined locking row – its the one I call  the 'sanity row' because it eliminates struggling to keep the base from shifting or distorting while weaving the first rows of a difficult basket. However once you are done the basket, this locking row has no practical purpose, so it is cut out later.
I use a sanity row when I weave a complicated twill or a basket that requires a lot of attention to shaping in the first rows.  I almost always twine a sanity row with 4 ply waxed linen.  You need a piece of waxed line that will go around the basket twice, plus six to twelve inches.  Start by folding the waxed linen in half, loop it around a middle stake, then twine around catching ever stake or every set of stakes and tie a double knot when you get back to the stake you started on. When the basket is complete cut out this row.  The waxed linen doesn't take much room, so when it is cut out it doesn't leave much of a footprint.
Coming next week…
And then there is my favorite locking row.  A four rod or three rod wale row with a step up and a lock.  I was going to explain how to do that in this post, but after weaving a few samples, taking a chip full of photos, downloading the best pictures and writing it — it made this post way long!  So I'll post it next week. So check back for Locking the Base – part II