Preparing Your Rims
Scarfing or shaving down your rim pieces will give a polished look to your basket. The goal of scarfing is to make the section where the two ends overlap the thickness of a single piece. When done well, it is difficult to find the join.
This can be done in a number of ways with several different tools. Many weavers use a sharp knife and put a piece of thick leather on their lap to protect themselves. Others use a trim plane or a pocket plane or a Stanley Surform Shaver and shave on a cutting board. When I am traveling, I use the Xacto Scraper with square (box) blade or my wood scorp and a small cutting board. However, when I am in my studio, I use my favorite tools – a draw knife and a shave pony.  Whatever you use, be sure it is sharp!
Scarfing your Rim
Rim material is usually flat oval or half round. It can be wet or dry when scarfing, depending on personal preference.
First, cut a piece of rim material for the inside rim and the outside rim. The outside rim will be the outside diameter of your basket (on the rim row) plus about 4-5 inches. The inside rim pieces will be the inside diameter of your basket (on the rim row) plus about 3-4 inches.
Put the outside piece around the basket and mark where they overlap.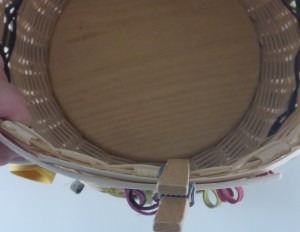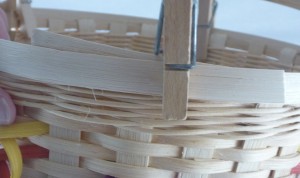 Mark on the top of the piece that slides under and on the under side of the piece that sits on top.
Next prepare the inside piece of rim material. Put the piece around the inside of the basket along the rim row. If you are working dry keep the rounded side against the basket for measuring and marking. Mark on the top of the piece that slides under and on the under side of the piece that sits on top.
Now that both pieces are marked, you will shave them down. You will only shave the side that is marked, this means one end will be shaved on the flat side and the other will be shaved on the oval or round side. If you are using a drawknife work with the beveled side down.
After shaving, trim and sand the end that will be on the outside and your rims are ready to add to your basket.
For a tutorial on scarfing with a plane check out The Basketmakers Catalog's How to Make a Perfect Scarf Joint for Your Rims.
Where to get These Tools
Stanley Surform Shaver and planes can be purchased at your local hardware store. The Xacto scraper with square or box blade can be purchased from most basket supply and woodworking stores. Many basket shops have shave ponies. My favorite shave pony design is available from East Troy Basketry for $40  The draw knife that I use and love, PFEIL "Swiss Made" Carver's Drawknife, is available from Amazon.

A word about draw knifes:
I am on my second drawknife. Years and years ago, I spent a chunk of money on a beautiful  knife. I used it until I broke one of the walnut handles off -it probably had a lifetime warranty, but I have no idea where I bought it.  So, it wasn't too long ago that I found myself shopping for a new one. I looked at a lot of drawknifes. I found one that I thought was perfect, but choked at  price tag. So bought one that I thought would be sufficient and was less than half the price. After spending an afternoon preparing rims before dying them for classes, I realized it was money wasted. 🙁 My hands were sore, the blade didn't slide through the material and the finish on the rims was less than perfect. So that evening I went online and ordered the perfect one.  And yes, it is perfect.  I prepped bunches of rims the other day – wow, what a difference having the right tools make. So don't waste your money and buy a cheap drawknife, it will be a mistake.
Click on the photos to see it on Amazon.