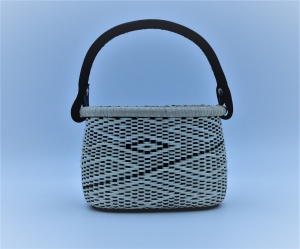 Well I haven't done a lot of blogging lately, but I have kept busy.
Last week I taught five classes at the Association of Michigan Basketmakers convention, my last event of 2018.  It was a wonderful time, beautiful scenery, amazing baskets and great people.  Join us in 2019!
And now that I am home and back in the studio…
Here's what I have been doing:
weaving
painting paper
writing patterns updating my teaching schedule
weaving (my happy place)
writing proposals
cutting kits
taking pictures of baskets
weaving
I figured it was time to post some of my new work. These are some of the baskets I have been proposing to teach at events in 2019.

SPLATTER CATS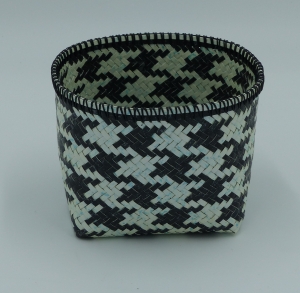 HERRINGBONE DIAGONAL TWILL
FRENCH BREAD BASKET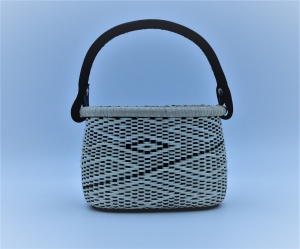 JOURNEYS (revisited)
OUI!
RISING TIDE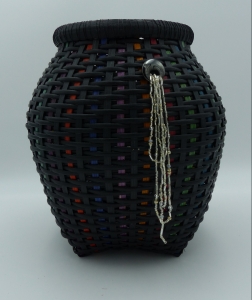 AURORA BOREALIS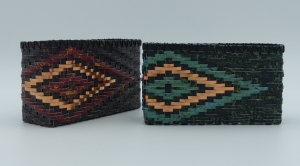 PERIPHERAL (paper & copper)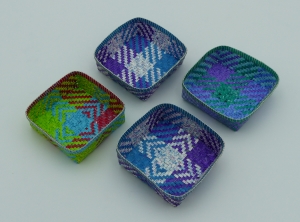 NINE PATCH PAPER TRAYS

PAPER ENVELOPES
And there you have it …. coming to a 2019 basket weaving event near you.
I am working on patterns.  I will release most of them in 2019, however I did recently release the pattern for Aurora Borealis.  You can find it here. And Journeys is a pattern I am revisiting.  The pattern is available, but I am doing a little bit of rework on it, so the revised edition will be out soon.
And that's it from my studio.  I hope you are weaving 🙂
thank you for reading the basket teacher