It's the last day of August!  My month disappeared in flurry of home remodeling. Not quite done, in September I tear my studio and dye room down and get it ready for paint and new flooring. Not exactly sure where I will put everything while the old flooring is being ripped out and new installed, but I know I will love it when it's done! I'll try to take some before, during and after photos for you.
Besides, self contracting and remodeling, I did do some teaching. In early August, a group of weavers in Sussex, Wisconsin invited me to teach. They had three projects going: Twizarr, T Tray and Arrows.
We had a wonderful time, made beautiful baskets and ate delicious food. Thank you so much for inviting me! (I totally forgot to take pictures, so glad Carol took some!)
Then last week I went to Dayton, Ohio, for the Heritage Fall Weave. Another great event, thank you Pam Feix and your amazing committee for all your hard work!
While I was there I was able to take a class with Billy Owens from Missouri. I enjoyed hearing his stories, learning more about Ozark white oak baskets
and making an white oak apple basket.
And I taught a couple classes:
Friday I taught Qoph – they all turned out lovely and we had a great time!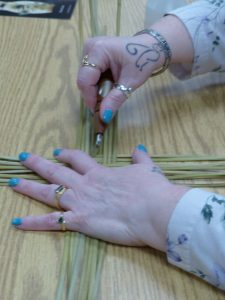 And I had to get a picture of Shirley's colorful party nails and her cat tat AND Carol's beautiful peacock hair. Qoph was kind of a party class!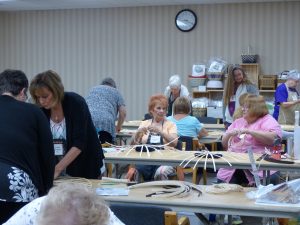 Sharon Klusmann, Diane Gleixner and I were all teaching in the same room. FUN!
Saturday I taught Three Squared, everyone made a beautiful cat head base!
The Heritage Fall Weave takes place at Bergamo Center in Beaver Creek, Ohio. We eat, weave and sleep in the same building – so they planned a Pajama Party. Oh My – we had so much fun!
Darlene brought her dog – and I don't think Pam approves of Linda's PJ's. (Linda you are in OHIO!)
Gotta love those Pigtails! Oh, we laughed, we shared baskets and we ate –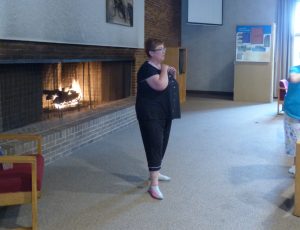 what a great idea Pam!
I love teaching  and I love basket weavers – If you are interested in learning more about the weaving group in Sussex, Wisconsin, message me and I will put you in touch.  And if you want to join us at the 2018 Heritage Fall Weave visit their website (www.heritagebasketryguild.com) and 'like' them on Facebook.
As always, thanks for reading!  And I hope to see you at a basket weaving event in the future!