I finally did that inventory thing and I am ready to clear out my storage room to make room for my 2018 baskets – so I am having a summer kit sale!  If you follow me, you know I don't often offer kits on my web site.  This won't last long – maybe a few weeks, maybe a month.  Then I will be on to other things.
UPDATE:  The summer kit sale is over.  You may still enjoy scrolling through the baskets and the patterns are still available in my store – so I will leave this post up.  I hope to have a Fall Kit Sale, so check back!
First Shipping Details:  $5 for the first kit, the add $2.50 for each additional kit. Five or more kits and shipping is a flat $15. 🙂
And here's what I have in my storage room – I'll list them alphabetically.  (Keep scrolling folks – I am offering one of the kits at half price!)  Click on the name or the photo to find it in the store.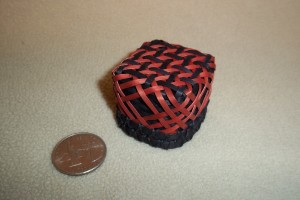 Crossfire  a miniature kit.
I have a variety of colors. You can make a color request and if I have it you can have it – if not it will be the 'luck of the draw'.
Grandma and Me Totes.  I have both sizes available – the Larger (Grandma) Tote and the Smaller (Me) Tote.
The accent colors in all kits are teal and burgundy.
Pinwheels  I have two color options available:
Burst of Spring (hyacinth, violet & emerald) or Touch of Fall (apple green, orange &  scarlet).
Porphyry Well, since 'porphyry' means purple, this kit is only available in purple, plum and natural as pictured.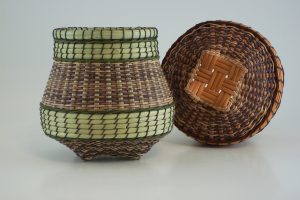 Qoph (pronounced like cough) I have this available in green and orange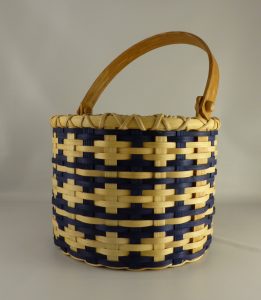 SouthWestern Work Basket This is a great beginner basket.  Available in Bright Navy or Burgundy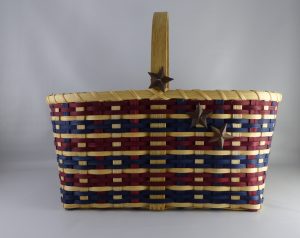 Stars and Stripes – another great beginner market basket!
Twines and Braids – Half Price Basket Kit!  While you are weaving it you will want to utilize my four strand braid tutorial (find it here).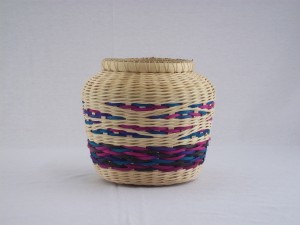 Whispers lots of fun stuff on this little urn!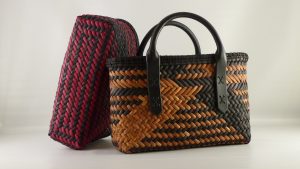 Zoe – A challenge – but oh so very worth it!  I have some red and black kits available.
You can find all of the basket kits I have available here .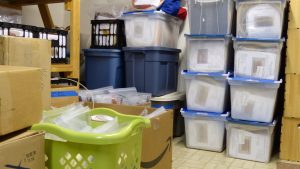 As you can see it's time to make room for new stuff.
~~~~
I've been blogging weekly for almost two years – the last few months I have slowed that down, partly due to health and partly due to a planned change.  I have been evaluating my schedule and future goals, and I have decided to blog a little less and travel a lot less, so that I can work on weaving more … you know my head is full of ideas and my hands are itching to get them out.
So in the future expect to see a blog post from me twice a month.  And I will be scaling my travel schedule in half, I'll still be out and about – just not as much.
~~~~
thanks for reading the Basket Teacher