One of the things I love about blogging is talking to basket weavers and sharing those conversations with you. A few weeks back I had a chance to talk to Pam Feix; as with many of my basket friends, I don't get to see her as often as I would like – so it was wonderful to talk to her and to hear her infectious giggle, unfortunately the telephone can't convey her hugs!
In 1994, Pam retired from Preble County (Ohio) Department of Human Services and began her basket journey – and it's all Dan's fault. Dan, Pam's husband, purchased antiques and restored them so the two of them would go 'antique picking'. Pam would often find baskets. On one of their excursions Pam found a basket that reminded her of her Great Grandmother; she purchased it and told Dan she wanted to learn how to make a basket.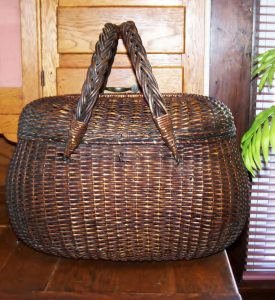 A few weeks later a local craft store held its Grand Opening, Pam attended and was ecstatic to see a basket weaver there, and then disappointed when she found out this basket weaver didn't teach classes. Well, Pam wasn't going to let a little thing like that stop her – she was hooked and she hadn't even made a basket! She started to beg for a class, it took six months! After four classes, the classes at the craft store weren't moving fast enough – and she wanted to learn to dye her own reed.  Her teacher sent her to Debbie Cate's Basket Shop … where, not only did she find more fuel for her habit, she met one of her closest friends!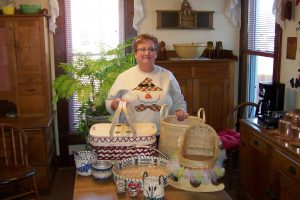 Feix Family Baskets
Pam moved from begging for a basket class to weaving baskets, joining guilds and attending conventions pretty quickly. As she was unpacking her purchases from a convention, Dan asked her why she was buying those wooden basket bases when he could make them for her. Next thing he knew, he was making them for Pam and her new weaving friends!  And when Dan retired from GM in 1996, they started their business, Feix Family Baskets, taking mail orders for bases and vending at basket events. Their business is a good fit for them – they love to be together. In the beginning, they were traveling to 12-13 events a year; they have scaled it back – thankfully you will still see them out there at 4-6 events a year, Dan vending and Pam teaching.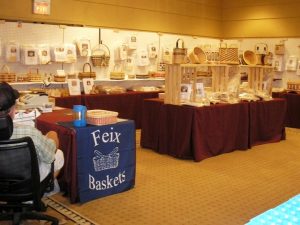 Pam says weaving is her escape from reality – her therapy. She loves designing new baskets, many of which are used by other weavers for craft and art sales. She describes her baskets as useful decorative pieces and Dan makes all of her basket bases and accessories. They really make a great team, you really have to check out their website. And Pam is an excellent teacher – for her it's all about sharing her passion and connecting with people.
Stateline Friends Weaving Retreat
Pam calls the basket community 'family' and that really comes out in how hard she works for the community.  In 2005, Pam and her friend Debbie Cates started to talk about hosting a weaving retreat.  In April 2006, they held their first event, Stateline Friends Weaving Retreat in Richmond, Indiana, just under 200 attended.  Today they are working on the 12th SFWR – 400 people have registered! The Whitewater Guild (Richmond, Indiana) juries the baskets and then, along with many others, help at the event, but Pam and Debbie do the year round work of executing this event.  Think about this – they have been volunteering their time for over 12 years!  I commented on the amount of work and Pam's response was "Oh but I love organizing the retreat.  I really do love every part of it.  It is a lot of work, but it is so rewarding … I love the energy at the event … It's like a great big family reunion, it's so wonderful to see everyone there."   (I wish you could have hear the enthusiasm in her voice!)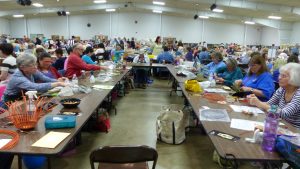 Heritage Weaver's Fall Retreat
And, as if organizing one event is not enough, Pam has recently become the coordinator for the Heritage Weavers Guild (Dayton Ohio) Fall Retreat.  (She really does love organizing events!) This is an established event, so Pam has a working committee.  The Fall Retreat is limited to 100 people and takes place at a retreat center – a place where we can weave, eat and sleep!  It's another great event – you'll want to check it out!
Pam is one of those people who amaze me.  She always has a smile, an encouraging word, and a helping hand.  She is one of the reasons I love the basket community. Thank you for letting me share your story Pam.
Be sure to check out these websites:
The Feix Family Baskets web site for Pam's basket patterns and basket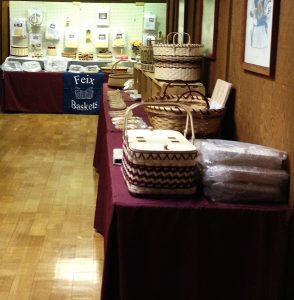 weaving kits and Dan's bases.  Dan takes special orders for all shapes and sizes – just order with plenty of time, he's been pretty busy of late!
Stateline Friends Weaving Retreat – if you aren't registered for 2017, start thinking about 2018! Find them on Facebook here; ask to join.
Heritage Weaver's Fall Retreat – August 2017 – I know that the registration information will be out in early 2017! Find them on Facebook here; ask to join.
Check out how much fun we had at these events in 2016!
Stateline Friends Weaving Retreat 2016!
Heritage Weaver's 2016 Fall Event – What a reTREAT!

thanks for reading the Basket Teacher