A few weeks ago, Shirley Mount from the Basket Patch, come down and taught at our guild. She brought some of 'the Patch' with her so we had fun shopping.  And we really enjoyed weaving her nesting canisters.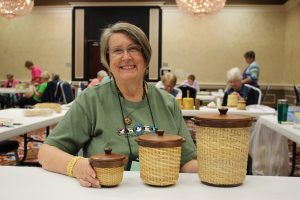 We had every size in process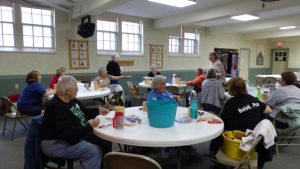 and we had a very full class – 14!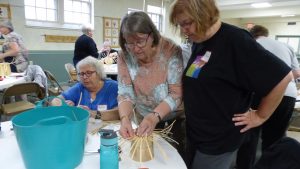 Shirley is a wonderful teacher.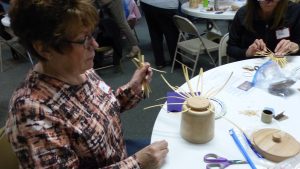 Weaving on a mold was a new technique for many of our guild members.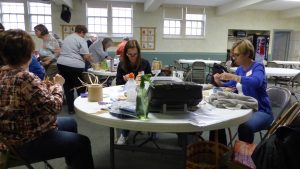 It was a wonderful class. We had a few brand new weavers join us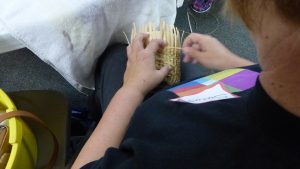 as well as one of our most experienced weavers.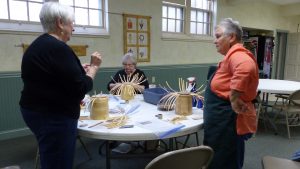 It was a great day of weaving and visiting- It was good to catch up with each other!!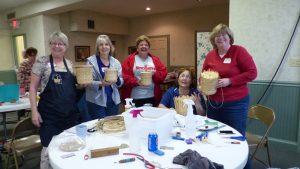 The 'five musketeers', they worked as hard as they laughed!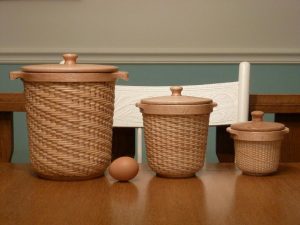 We only made these three sizes, but there is one larger canister in the series.
Shirley lives in Gilman Wisconsin, her business, The Basket Patch, is a great source for basket weaving supplies. You will want to check out her website or call her for more information (715-447-8497).
Every March, Shirley organizes a basket weaving retreat, Wisconsin Weave Away in New Auburn, Wisconsin. It is a great event in a beautiful part of Wisconsin. It fills up fast,so if you re interested, don't delay!  You can get more information about this basket weaving event or having Shirley teach at your event or guild at her website: www.thebasketpatch.com.
Thanks for reading the Basket Teacher.