If you were watching the Super Bowl 50 in January (2016), you may have caught a glimpse of Jill.  No she wasn't in the stands or the half time show, she was the Texas basket weaver on the Reliant Energy commercial. She says it was only a few seconds – but hey those were prime time seconds Jill!  (Curious? Links to the commercial are below.)   Jill is an accomplished basket and gourd artist, so it's no surprise she was chosen to be included in the commercial. 

Jill works out of her home studio in Austin, Texas.   She is an active member of her local guild, Hill Country Weavers, and several state guilds, including the Texas Basket Weavers Association.  You can find Jill's work at exhibits and art shows in Texas and you can find her teaching locally and at conventions all over the United States.  Check out her website,https://www.artmyway.biz/to find out where she will be teaching and exhibiting next.  And while you are there, grab a cup of coffee and enjoy her basket and gourd gallery –truly inspiring!
Jill's basket journey started back in 1986 with fly fishing in Maine.  Jill's husband Joe* is a fly fisherman and for several years he spent his summers teaching fly fishing for L.L Bean.  The first year he did this, he arrived in Maine before Jill and discovered "Baskets of Joy" Maureen Joy's shop. He encouraged Jill to check it out when she arrived.  Of course that lead to weaving her first basket.  In addition to learning to weave at Baskets of Joy, Jill also worked at Baskets of Joy for the next two summers. Jill has a degree in textile and clothing design and was a loom weaver, so it's no surprise that basket weaving appealed to Jill's  love of color, design, texture and three dimensional art.
Two of the most influential people in Jill's basket journey are Tom and Connie McColley.  From 1990-2000, Jill and her husband Joe, would spend two weeks in West Virginia attending the McColley's White Oak Basketry School. Working with them was wonderful in so many ways.  Joe is a fantastic woodworker and so he loved the beautiful woods and oak splitting part and Jill loved the entire experience, but particularly the weaving. Tom and Connie's creativity continues to inspire her.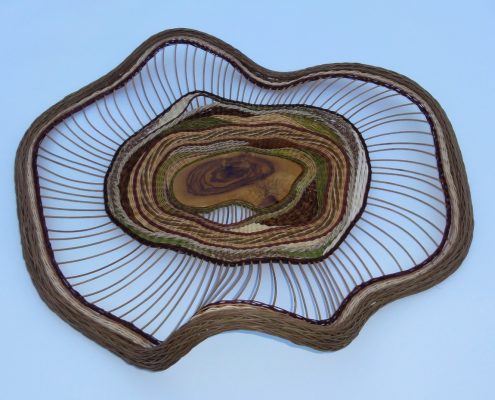 Eight or nine years ago, Jill got interested in gourds.  She has started by taking a gourd class here and there at basket events, and eventually found herself attending the Wuertz Gourd Festival and taking classes with gourd artists from across the nation.  Color, carving, texture, naturals – Jill is hooked!  Recently Jill has put together a gourd presentation. It's informative and a great introduction to gourd art and artists.  Ask her to share it at your next event!
Jill retired from her full time job a few years ago to devote her time to her art.  She splits her time between basketry and gourd art – very different, yet complimentary art forms. Jill finds both of them very satisfying. If you get a chance to take a class with Jill or an opportunity to purchase her work, you will be glad you took it!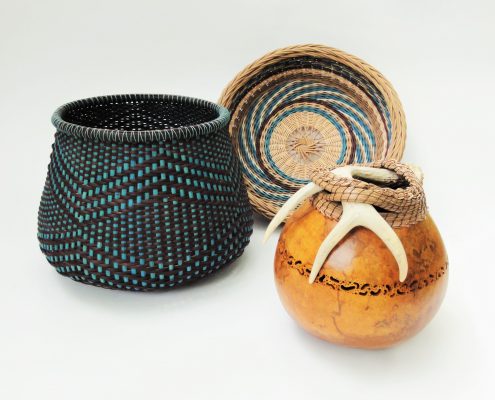 A few years back, I had dinner with Jill at the Missouri Basketweavers Guild annual convention. The basket community is not that large, so I knew who she was and had long admired her work –that dinner together was the start of a wonderful friendship.  I have so enjoyed getting to know Jill. Her basket weaving story is so interesting and her work so beautiful, so I was tickled when she agreed to let me interview her. Thank you Jill.
*amazingly Joe, Jill's husband, has also starred in a Super Bowl commercial – but I will let you ask Jill about it when you meet her!
And here are the links to the commercial – enjoy Reliant Energy's Super Bowl commercial:
https://www.youtube.com/watch?v=RvfTOFCbEk0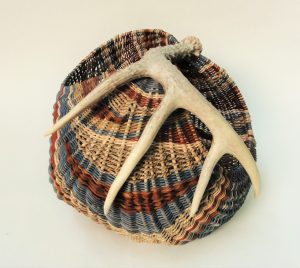 And a second Reliant Energy commercial staring Jill 🙂