I've known Pam Talsky for several years, and while back I had a chance to 'interview' Pam.  Pam's excitement about basketry is contagious and her work is amazing – enjoy!
Pam was in Minocqua, Wisconsin, on a family vacation when she was introduced to basketry.  Francis Whitfield was offering a pine needle class at the resort. Using local raw pine needles and raffia, participants made coaster, Pam made 'one' with a lip and a lid. She was hooked. She bought all the material she could from Francis and spent every spare moment of their remaining vacation coiling.  That was 1994, only the beginning of Pam's journey to become nationally known as a basket teacher and artist.
When Pam got home from her vacation she raided the library and poured over every basket book she could find. Robin Taylor Daugherty's "Splint Woven Basketry", was one of the books Pam worked through as she taught herself to weave reed baskets. She wove over 1000 baskets that first year!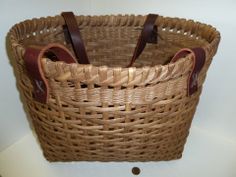 And while she was reading and learning and weaving, Pam felt like she was living in a bubble. Then one day when she was ordering from NorEsta, they asked if she would be at the Lake Country Basket Guild Event in a few days. (Wait! Basket weavers? In my neighborhood? Basket classes?) Pam was able to attend visitor's day and while shopping with her 'Susan Coyle Peninsula Picnic Basket', she talked to vendors and teachers and even Susan herself!
At another Lake Country Event, Pam had an opportunity take a class with Donna Carlson, one of the people who inspired and encouraged Pam to master coiling with pine needles and introduced her to cedar. Over the years Pam has often traveled to Alaska to harvest cedar, she loves working with cedar as well as the history of the northwest coast and its bond with cedar. And Pam does a wonderful slide show and presentation on traveling to Alaska and harvesting cedar – If she is teaching at your event, be sure to ask her to share it with you.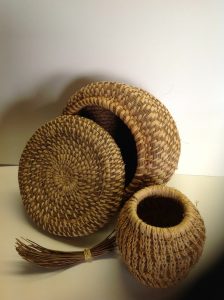 Pam will tell you that she loves all types of basket weaving, for years she wove and taught reed baskets as well as cedar and pine needle baskets. The form and function that drew her to basketry in 1994, still holds her to this art form. Today, Pam mostly teaches and exhibits pine needle basketry. Pam loves that there is no limit to the shapes she can create with pine needles – as you can see her work is beautiful.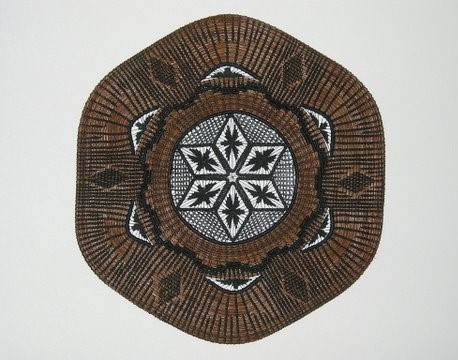 For many years, Pam traveled extensively to teach. Today, Pam is cutting back on travel, spending more time in her studio both teaching and weaving and spending more time with her family.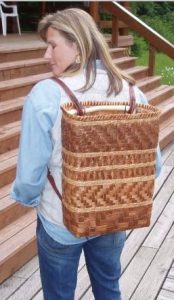 This is just a peak at Pam, her story and her work.  The National Basketry Organization featured Pam's work and story in their Summer 2015, Quarterly Review. I encourage you to get a copy of that publication and read more about Pam. And be sure to check out Pam's website www.pamtalsky.com
Thanks for letting me interview you Pam – I always love talking to you!