I love talking to Pat Vogler, she is always busy doing something. Tending a huge garden and canning the produce, growing and drying herbs, making soap and tending to her chickens. When I first met Pat, she also had goats: Nubians for milking, Angoras for the fiber and African Boars for meat. Today, there are no goats in the pasture, Pat and her husband John, are a little busy with their business, Bittersweet Baskets and Homestead Handles. As their website says it is 'more than a basket shop.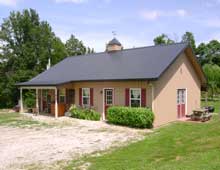 Pat has always loved to do handwork. She learned to crochet from her mother while a child. As an adult she learned to quilt and applique and took a knitting class at the community college. In 1999, she took another class at St. Charles Community College – Basket weaving. She spent the next year apprenticing with a basket instructor. In 2000, Pat was invited to work in Silver Dollar City at their National Harvest Festival. Every fall for the next eight years, Pat spent six weeks demonstrating and selling baskets at this event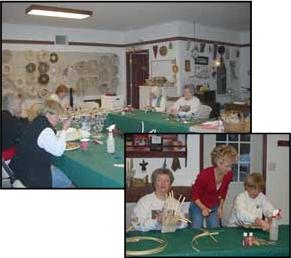 In late December of 2004, Pat opened her business, Bittersweet Baskets and Supply, in a newly built shop on the farm. Originally, half of the building was the basket business and half was an antique/ tea shop, but time has changed a few things.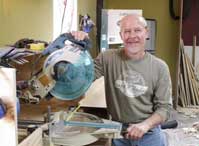 In 2007, Pat's woodworker said he was retiring, so Pat and John took time to visit with him and learn what it would take for John to make her bases. They invested in the equipment needed and now John makes bases for Pat and basket weavers all over the country.  Each base is individually hand cut and sanded in their woodworking shop right next door to the basket weaving shop. The bases are top quality, made only from superior white ash and can be found in various shapes and sizes. 
Then in 2013, Pat purchased Homestead Heirlooms, an established leather handle business based out of Wisconsin. With this addition, Bittersweet Baskets changed their name to Bittersweet Baskets & Homestead Handles and now offers leather handles, bag finishing hardware and accessories for knitted, crocheted & felted bags, and accessories to complete their basket product offerings.
And now you know why there are no goats in the pasture and no room for the tea shop. The shop is full of the smell of sawdust and leather, John making bases and Pat making leather handle to fill orders. Pat also teaches basket classes twice a month, and she travels to vend (selling her leather handles) at 10-12 sheep and fiber or basket events a year.
You really will want to check out Bittersweet Baskets and Homestead Handles's website – http://www.bittersweetbasketsandsupply.com./ . I love their  basket bases and I love their leather handles – you will see them in a lot of my baskets.