I had the delightful opportunity to interview Pati English, an accomplished basket maker, instructor and studio artist. She is also the author of the new book, "Award-Winning Basket Designs, Techniques and Patterns for All Levels".  While Pati, a former Elementary School Librarian, had always wanted to write a book, books don't just happen overnight; there's always a story. Pati's story begins twenty-nine years ago, when her friend Desi called and asked if she wanted to 'go make a basket tonight'. Pati's children were toddlers and a creative evening with adults sounded fun; little did she know that saying 'yes' would change her life.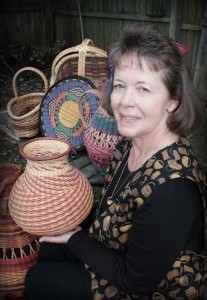 That first market basket led her to other basket making classes. And when the craft store closed, Pati did what librarians do –she went to the library; she found some books and started to teach herself. Within a year she was teaching others to weave and very quickly started regular classes in her home studio. 
In 1996, Pati became a Resident Artist with the S.C. Arts Commission.  Through the Artist in Residence Program she began teaching basketry in schools; today Pati estimates that she has introduced basketry to over 2000 young students. Pati also teaches adults at numerous basket conventions and retreats each year. She is well known for the fancy wrapped handles she teaches and her Breast Cancer Awareness baskets; every five years she designs a new one in honor of her mother. Her Breast Cancer Awareness Basket #2 is pictured above.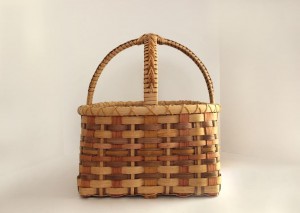 Pati won her first award when she entered a basket, the Double Handled Carryall (pictured above), in  the Anderson County Arts Center Annual Juried Art Show in Anderson, S.C. When she saw all of the other art pieces entered, she didn't expect her basket to take a prize. But it did! It won a Fine Craft Award in the three dimensional visual arts category. It was in the Southern Living Magazine and is now on permanent display at the Fran Hanson Discovery Center at the S.C. Botanical Garden, Clemson University.  Pati has gone on to win numerous awards since that first unexpected one.
Over the years people would ask Pati to write the patterns and teach her award winning baskets, sometimes she did – the Double Handled Carryall was the first basket she taught at the North Carolina Basket Association Convention. Over time she decided that it was time to write those patterns and compile them into a book "Award-Winning Basket Designs, Techniques and Patterns for All Levels".
Pati's book contains patterns for fifteen of her award winning baskets, including the Double Handled Carryall and Autumn's Dress (picture below). All of fifteen are beautiful baskets! The book also includes chapters on American basket history, materials, weaving bases, finishing rims and handles, weaving techniques, and a picture gallery of other award winning baskets!
I am writing this shortly before the release date and I can hardly wait to get my copy. (Update:  The book has been released – and it is beautiful!) You can order your autographed copy on Pati's website www.basketsmyspecialty.com.